Like Assad, Syria's envoy endorses Aoun for president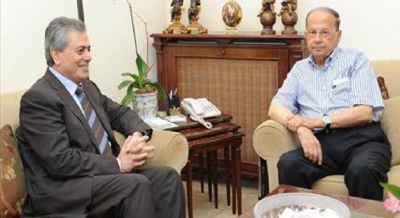 Syrian Ambassador to Lebanon Ali Abdel Karim Ali voiced his support for Change and Reform bloc leader MP Michel Aoun for presidency, criticized the Lebanese Maronite Patriarch Beshara Boutros al-Rai according to media reports.
During an interview with Jaras Scoop FM radio on Tuesday Ali was quoted by NOW as saying:
"As long as the coalition that is close to our political line supports Aoun, then we too consider Aoun to be a friend of Syria's, who believed in Syria's victory over the crisis."
He ruled out the possibility of Geagea becoming the president .
"We will certainly not even consider the possibility of Lebanese Forces leader Samir Geagea's arrival to the presidency, I do not think that this is [even] possible. Geagea never was and never will be our presidential candidate," he added.
Ali urged Patriarch Rai to "reconsider" his statements about the Lebanese citizens living in Israel.
"Rai [should] reconsider his statement about the collaborators [with Israel], especially that the patriarch has given very important speeches that placed him in a high [position],"
The Syrian envoy was also asked about the fate of the thousands of Lebanese detainees in the Syrian regime jails, but denied there are any
"This issue has become a symphony that you like to play. There are no detainees or missing people in our prisons," Ali said.
"Some of those missing people were hidden in Lebanon, and some Lebanese parties know this very well…Aoun has brought up this issue with President Bashar al-Assad and he received convincing answers," he added.
Ali defended former Information Minister Michel Samaha who was accused of transporting explosives to Lebanon from Syria along with another Syrian officer in a bid to foment terrorism.
"Samaha was a friend of Syria's and his [judicial] case is marred with ambiguities. The remote control that was found inside the car, was with [the man] who recruited Milad Kfoury, and maybe Samaha was a victim, because the reports on this case are incomplete," he said.
"I am not in a position to judge, but what is certain is that Syria will not abandon its friends ," he added.
One observer told Ya Libnan:
It appears that , after Hezbollah helped the Syrian regime in capturing more territories from the rebels, Syria is back to its old habits of interfering in the internal affairs of Lebanon . It is telling Lebanon who should be its president and who should't be …it is criticizing the highest Spiritual Christian authority while the regime is pretending that it is protecting the Christian community and worst of all it is defending an ally who was indicted in the plotting of terrorist attacks against Lebanon.
This development comes days after Assad threw his support behind Aoun's candidacy describing him as an "honest man," and saying he would welcome his election as the next Lebanese president.
"We welcome Aoun's election as a president for being in Lebanon's interest and in the interest of friendly ties," he stressed
The FPM chief is "patriotic, non confessional and believes in the resistance," Assad added.
Assad's endorsement of Aoun came days after the FPM leader was quoted by Al Joumhouria newspaper as saying that Assad deserves a Nobel prize for combating terrorism.
Aoun has not announced his candidacy but he aspires to become a consensual nominee and has reportedly been waiting for former PM Saad Hariri to endorse him , but so far the Future Movement leader along with his March 14 allies are sticking with Geagea.
Geagea challenged Aoun to run against him or move on to plan B which calls for agreeing on a consensual candidate, Lebanese media reported last month.