Syria geared up for 'farcical' presidential election as war rages on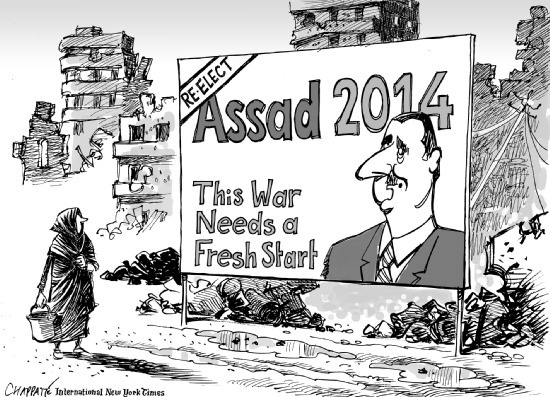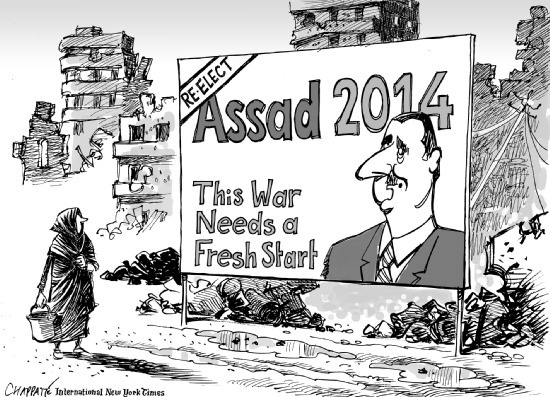 Syria geared up Monday for an election expected to keep Bashar al-Assad as president but derided as a "farce" and only staged in regime-held parts of the war-ravaged country.
Officially, 15 million people are eligible to vote in a country bled dry by the three-year conflict that flared from a brutal crackdown on a peaceful protests calling for democratic reforms.
Tuesday's election can only be held in areas under the regime's control, far from clashes between forces loyal to Assad and the rebels fighting to topple him.
A "security plan" has reportedly been put in place in Syrian cities since Sunday, aimed at protecting voters and polling stations against possible attacks.
"Military and security forces are on maximum alert to ensure the security of Syrians who wish to vote," Al-Watan, a pro-regime newspaper, reported on Monday.
More than 9,000 polling stations had been "secured" across the country, the daily said, advising voters not to be concerned about their safety on election day.
For some time, rumours have swirled that polling places in Damascus would be targeted by rebels positioned in the nearby countryside.
On Monday, a bomb-laden truck reportedly killed at least 10 people when it exploded in Haraqi, a regime-held village in Homs province populated mainly by people from Assad's Alawite community. The Syrian Observatory for Human Rights meanwhile reported that at least 50 people were killed at the weekend in rebel mortar and rocket fire targeting regime-controlled zones of divided Aleppo city.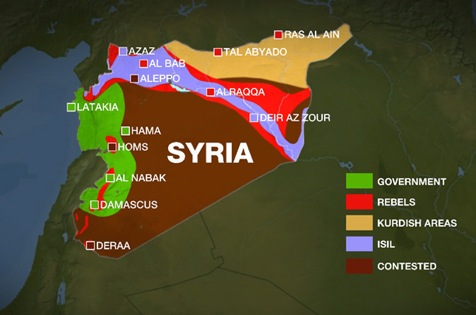 The Baath party, which has ruled Syria with an iron fist for half a century, as well as other parties and religious officials tolerated by the regime have called on voters to choose Assad, who is widely expected to sweep back to power.
"Tomorrow, Syrians will speak their minds. They will choose a leader who will restore security and preserve sovereignty," said official daily Al-Thawra.
Information Minister Omran al-Zohbi, in a television interview on Sunday, said: "The presidential election is a genuine occasion for all Syrians to express… their personal opinion, in a totally transparent way".
Assad faces two virtual unknown candidates in the vote, which is Syria's first election in 50 years after the president and his father Hafez before him maintained power after a string of referendums.
Posters glorifying Bashar al-Assad have gone up in Damascus, while some portraits showed his competitors Maher al-Hajjar and Hassan al-Nuri, until they began to be removed Monday at the end of the campaigning period.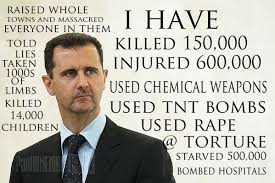 Rebels seeking Assad's overthrow and their Western and Arab backers have watched powerless as the preparations have come to a close, after the army secured a series of military advances on the ground, especially around Homs and Damascus.
Opposition activists have branded the vote a "blood election" that is being held amid a war that is estimated to have killed 162,000 people.
Rebels have called on voters to boycott the election, which excludes any anti-regime candidates from running.
A civil servant in Damascus told AFP that he would vote.
"I have to, because there is a voting station in the building where I work. I can't escape," he said.
Syria saw a peaceful, Arab Spring-inspired revolt break out in March 2011, demanding political change.
The movement later morphed into an insurgency, after the regime unleashed a brutal crackdown against dissent.
The conflict that ensued evolved into a complex, multi-front war that drew in thousands of foreign jihadists, as large swathes of Syria's territory fell out of government control.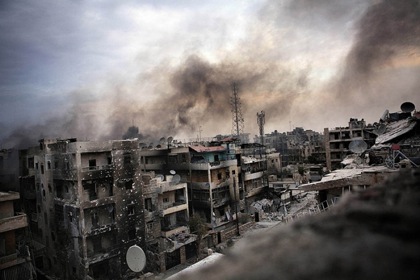 The election is aimed at reinforcing Assad's position in the war, as the army backed by Lebanon's Shiite Hezbollah movement and Damascus' allies in Russia and Iran battle divided rebels who are also fighting the jihadist Islamic State of Iraq and the Levant.
Observers from countries allied to the regime — North Korea, Brazil, Russia and Iran — have arrived in Damascus to monitor the vote, said state news agency SANA.
The vote has been slammed as a "farce" by the opposition and as a "parody of democracy" by the United States.
Refugees in Lebanon who fled the Syrian war held protests on Sunday to denounce the election.
"Vote for the man who killed 200,000 Syrians!" read one poster held by a protester in Lebanon's northern Kusha village, as demonstrators marched waving flags of the Syrian opposition.
Polling stations will be open for 12 hours from 7:00 am (0400 GMT) on Tuesday.
Time