Belgium steps up security after Jewish museum shooting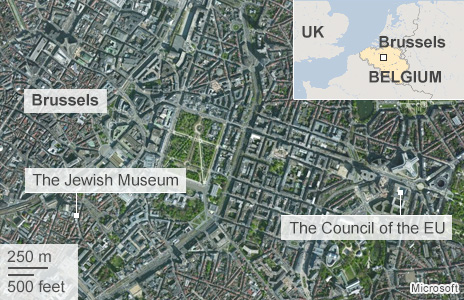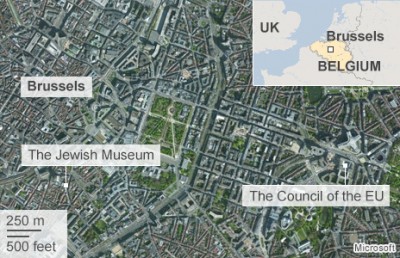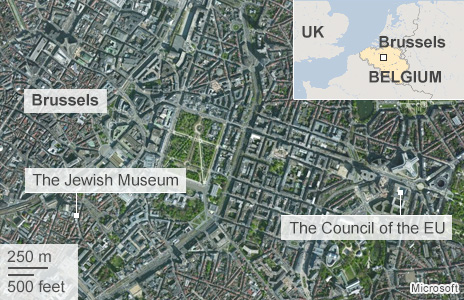 Security has been stepped up at Jewish sites across Belgium after a gunman shot dead three people at the Jewish Museum in the capital Brussels.
Police are continuing to question one person detained shortly after the attack and a manhunt has been launched for a second suspect.
A fourth victim remains in a critical condition.
The prosecutor's office said the two women and a man were struck by bullets in the face or throat.
Brussels Mayor Yvan Mayeur said he thought the shooting was probably a "terrorist act".
Israeli Prime Minister Benjamin Netanyahu issued a statement strongly condemning the killings which he said were "the result of endless incitement against the Jews and their state".
Belgium has a Jewish population of some 42,000, about half of whom live in the capital.
Belgian Foreign Minister Didier Reynders, who was one of the first people to arrive at the scene, spoke of his shock at seeing two of the victims lying at the entrance to the museum.
"You cannot help think that when we see a Jewish museum, you think of an anti-Semitic act. But the investigation will have to show the causes," he said.
Prime Minister Elio Di Rupo said Belgians stood "united… faced with this hateful attack".
He said "everything has been mobilised that can be mobilised" to find the killer.
Interior Minister Joelle Milquet said the attacker parked a car outside before entering the museum.
She said the gunman "apparently fired rather quickly, went outside and left".
The attack happened at around 15:50 local time (13:50 GMT) on Saturday in the busy Sablon area of Brussels, which was hosting a three-day jazz festival.
Ine Van Wymersch, a spokeswoman for the prosecutors office, said one person was detained after he drove away from the museum around the time of the attack.
A second suspect left the area on foot. Ms Van Wymersch said security camera footage was being studied to try to identify the person.
Police have cordoned off several streets around the museum.
BBC