Thousands storm McDonald's HQ demanding higher wages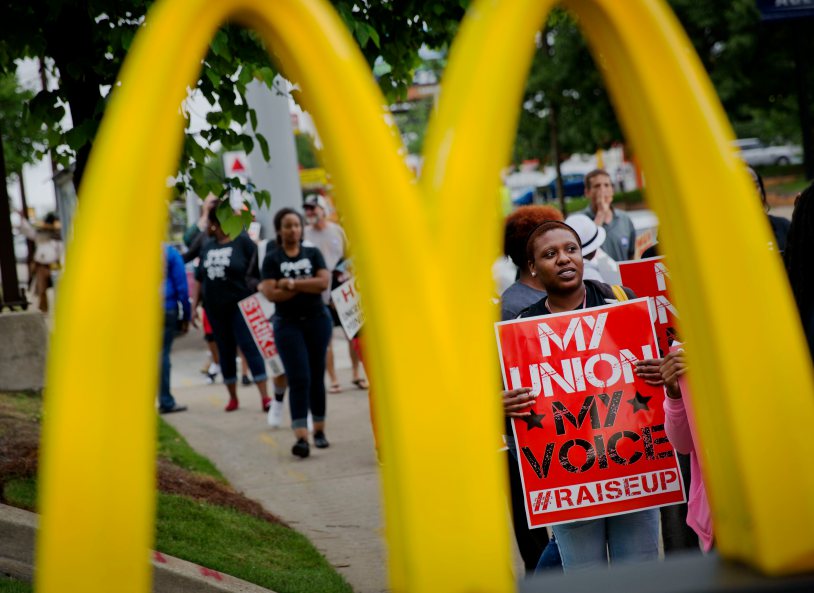 More than 100 McDonald's employees and some labor and clergy members were arrested after protesting for increased wages near the fast-food chain's headquarters in Oak Brook, Illinois.
The event, the latest in a series of demonstrations by workers demanding $15-an-hour pay and the right to form a union, began at 1 p.m. local time yesterday, on the eve of McDonald's Corp.'s shareholder meeting.
About 2,000 protesters, including about 325 McDonald's workers in restaurant uniforms, stormed though the company's campus entrance at Jorie Boulevard and Kroc Drive in Oak Brook, according to the organizers, holding signs that said, "We Are Worth More" and "My Union My Voice." The Oak Brook Police Department estimated the number was 1,000 to 1,500.
The protesters — brought to the scene by 32 buses — were joined by Service Employees International Union President Mary Kay Henry and William Barber, an official from the NAACP, the nation's oldest civil rights organization. About 110 people were arrested for trespassing, police said. The protesters who were arrested included McDonald's (MCD) workers and 36 community, clergy and labor leaders, including Henry, according to the organizers.
While McDonald's respects the protesters' right to peacefully demonstrate and to choose whether they want to join a union, the company is "focused on welcoming our shareholders tomorrow," said Heidi Barker Sa Shekhem, a spokeswoman, in an interview yesterday.
Employees Stay Home
Ahead of the protests, McDonald's encouraged most of its 3,200 headquarters employees to work from home because of traffic concerns, Sa Shekhem said. Of its five headquarters buildings, McDonald's closed one, which houses its U.S. business and employs about 2,000, she said.
The protesters were planning to picket the headquarters at 2111 McDonald's Drive. Because of the shutdown, they instead targeted the nearby McDonald's campus that houses Hamburger University and a Hyatt Lodge.
"The closing reflects McDonald's refusal to address the growing concerns of workers and failure to take action to raise wages," Deivid Rojas, communications director for the Workers Organizing Committee of Chicago, said in a statement. The protesters had planned to return to McDonald's headquarters today when its shareholder meeting begins.
McDonald's and other chains are facing growing criticism for not paying workers enough. Since November 2012, when fast-food employees picketed in New York for wages of $15 an hour and the right to form a union, protests and strikes have spread to McDonald's, Taco Bell and Burger King (BKW) across the country. Earlier this month, some fast-food workers also demonstrated overseas.
'Livable Wage'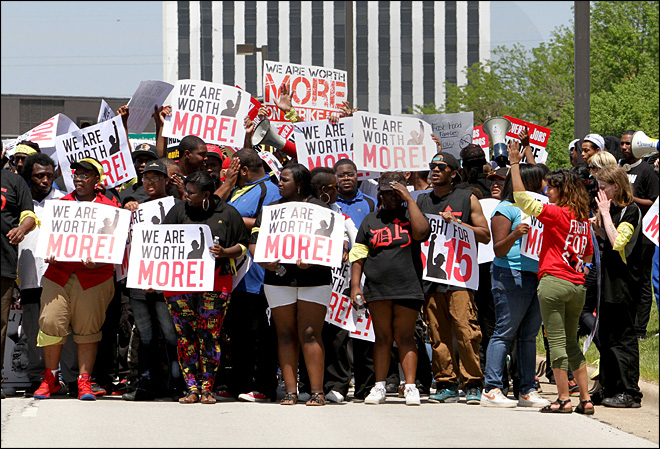 "I'm here fighting for $15 and a union, so that my path does not become my children's future," Melinda Topel, a 43-year-old McDonald's store employee who makes $7.50 an hour, said in an interview. Topel traveled from Kansas City, Missouri, to protest in Oak Brook.
"We deserve a livable wage," said Topel, who receives government assistance to buy food. She's struggling to afford school supplies and shoes for her two kids at home, she said.
While the U.S. federal minimum wage is $7.25 an hour, some states require higher pay than the national minimum. Fast-food workers in America make about $9.08 an hour, or $18,880 a year, on average, if they work full time, according to data from the Bureau of Labor Statistics.
McDonald's, the world's largest restaurant chain, also is contending with sluggish demand and increasing competition. Sales at its domestic locations open at least 13 months were little changed in April, the company said earlier this month.
McDonald's has more than 35,400 restaurants worldwide. In the U.S., about 90 percent of its locations are owned by franchisees, who determine pay, Sa Shekhem said. McDonald's pays above the minimum wage in most cases, she said. Still, raising pay to $15 an hour is unrealistic, Sa Shekhem said.
"But we know that a minimum wage increase will happen over time and we'll look to the folks in Washington to determine what that is," she said.
Bloomberg