Russia calls prince Charles ' remarks comparing Putin to Hitler , outrageous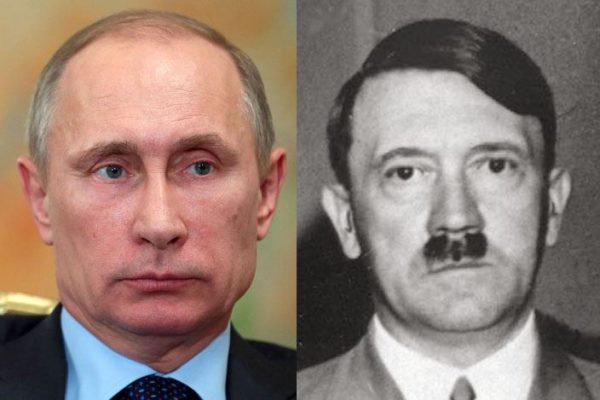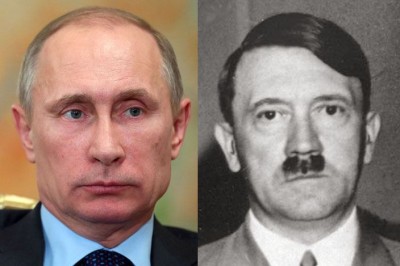 Remarks attributed to the Prince of Wales likening Vladimir Putin's actions to some of those of the Nazis are "outrageous", the Russian embassy says.
Deputy ambassador Alexander Kramarenko has met Foreign Office officials to ask for official clarification.
The alleged comments were made during a conversation with a former Polish war refugee during a royal tour to Canada.
A Russian foreign ministry spokesman said "the remarks did the prince no credit, if he really said this".
Mr Kramarenko met a senior Foreign Office director in Whitehall.
BBC security correspondent Frank Gardner said the Russian aim was to talk about Prince Charles's reported comments, but the meeting had developed into a much broader discussion about recent events in Ukraine and indications were it had been fairly robust.
The Foreign Office said Kramarenko met Sian MacLeod, Additional Director for Eastern Europe and Central Asia.
"In response to Mr Kramarenko's representations, the director said that the Foreign Office could not be expected to comment upon reports of private conversations, and restated the government's hope that ahead of the Ukrainian presidential elections Russia would step back from comment or actions provoking instability in Ukraine," it said.
Museum visit
Earlier, a spokesman for the Russian embassy in London said: "The minister-counsellor of the Embassy, Mr Alexander Kramarenko, will meet this afternoon the representatives of the FCO [Foreign and Commonwealth Office] to discuss a range of bilateral issues.
"The outrageous remarks made by Prince Charles in Canada will be among the questions raised. The embassy asked the FCO for official clarifications on that yesterday."
The foreign ministry said it was better, as one British Labour politician had been quoted as saying, for royalty to be seen and not heard.
Following the Russian embassy's statement, Clarence House said it had "no further comment to make at this stage".
Reaction in the UK has been generally supportive of the prince.
On Wednesday, Prime Minister David Cameron said he would not comment on a private conversation but added that "everyone is entitled to their private opinions".
His deputy, Nick Clegg, said Prince Charles was "free to express himself" and Labour leader Ed Miliband said the prince "has got a point".
UKIP leader Nigel Farage said there were times when "it might be better" for the prince not to get involved in such things.
However, former Foreign Affairs Select Committee chairman, Labour MP Mike Gapes, said the prince should end his "freelance foreign policy".
Royal biographer Robert Hardman said such incidents were an "occupational hazard" for the prince, but campaign group Republic said he was developing "something of a track record for interfering in policy".
The Prince of Wales reportedly made the remark during a conversation with Marienne Ferguson at an immigration museum in Halifax, Nova Scotia, where she works.
They had been discussing Hitler's takeover of countries. Ms Ferguson said the prince said "something to the effect of 'it's not unlike… what Putin is doing'".
The prince and the Russian president are both due to attend a D-Day anniversary event in France next month.
'Private conversation'
Clarence House said it would not comment on what it said was a private conversation.
"But we would like to stress that the Prince of Wales would not seek to make a public political statement during a private conversation," it said.
On Monday, the Prince of Wales and Duchess of Cornwall visited Canada's national immigration museum Pier 21.
The prince chatted to museum volunteer Ms Ferguson, who left Poland for Canada shortly before the Nazi occupation.
The 78-year-old managed to escape to Canada along with her parents and two sisters, but other members of her family were sent to Nazi camps.
Charles and Camilla have now returned to the UK after their four-day tour of Canada.
Prince Charles's next official public engagement is on Saturday, when he is due to attend the Music in Country Churches concert at the Church of St Peter and St Paul in Northleach, Gloucestershire.