Palestinians mark "Nakba" Day with protests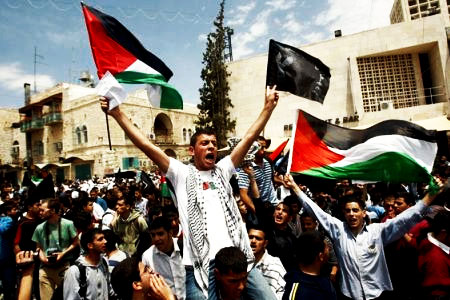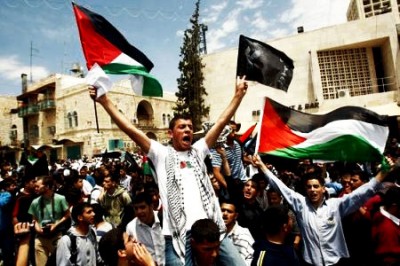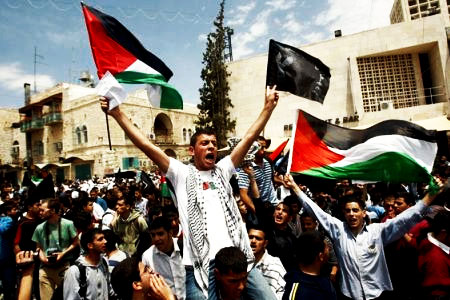 Two Palestinian young men were killed near Ramallah in the West Bank on Thursday during protests marking the Nakba Day, an annual event of the Palestinians to lament their displacement after the founding of the state of Israel.
Thousands of Palestinians on Thursday marked the 66th anniversary of the Nakba Day, or day of "catastrophe" in Arabic, an annual commemoration for their lament over Israel's establishment in 1948 and their displacement during the war in its wake.
Rallies, demonstrations and protests took place in the West Bank and the Gaza Strip, triggering several clashes between protesters and Israeli soldiers. Witnesses said that soldiers dispersed demonstrators with live ammunition and tear gas.
Two Palestinian young men were killed and several people injured during clashes near the Israel's Ofer prison on the outskirts of Ramallah in the West Bank.
Clashes between demonstrators and Israeli soldiers also broke out in the southern West Bank city of Hebron, in Jenin and Bethlehem, according to witnesses.
The demonstrators waved Palestinian flags and chanted slogans, calling for ending the Israeli military occupation of the West Bank and for the Palestinian right of return.
In the Gaza Strip, the coastal enclave ruled by Hamas movement, hundreds of Palestinians rallied near the northern Gaza Strip town of Jabalia, not far from the borders between the enclave and Israel.
During the rally, sirens were turned on for 66 seconds, while the demonstrators waved flags of rival Fatah and Hamas parties to express hope for their unity.
The Palestinians will stick to their legitimate rights, and will never make concessions on their right of return or accept an alternative homeland in any other country in the world, officials from the refugees' department of the Palestine Liberation Organization said at the rallies.
The Palestinian Central Statistic Bureau said last year that the number of Palestinian refugees has reached to 5.3 million, accounting for nearly half of the Palestinian population around the world.
Xinhua