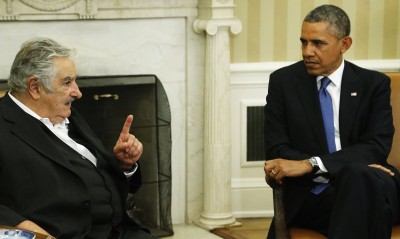 José Mujica dropped in on the White House recently to lecture President Obama for high smoking rates in the United States. He also said that more Americans should work to learn Spanish and become bilingual
President Barack Obama hosted Uruguayan President José Mujica in the Oval Office Monday to highlight the United States' "close partnership" with South American country, but Obama may have gotten more than he bargained for.
In brief remarks before their meeting, a tie-less Mujica, a one-time guerrilla fighter, lectured Obama about the dangers of smoking and the need for the United States to become bilingual.
"You will have to become a bilingual country…" he told Obama. "Because the strength of Latin women is admirable and they will fill this country with people who speak Spanish and Portuguese, too."
Addressing Obama, a one-time smoker, Mujica highlighted his country's ongoing litigation with tobacco company Philip Morris over Uruguay's stringent anti-smoking laws.
"Mr. President, who is speaking is an old smoker," Mujica said. "But in the world, per year, eight million people are dying from smoking. And that is more than World War I, World War II. It's murder. We are in an arduous fight—very arduous—and we must fight against very strong interests. Governments must not be involved in private litigation, but here we're fighting for life."
Time
This error message is only visible to WordPress admins
Error: No connected account.
Please go to the Instagram Feed settings page to connect an account.