Nigerians attacked by militants leaving country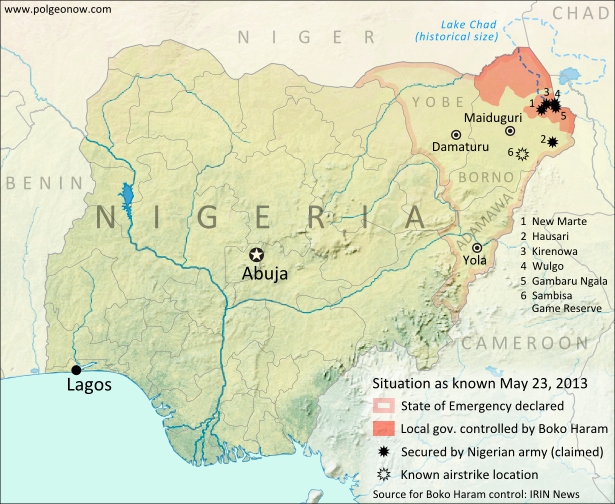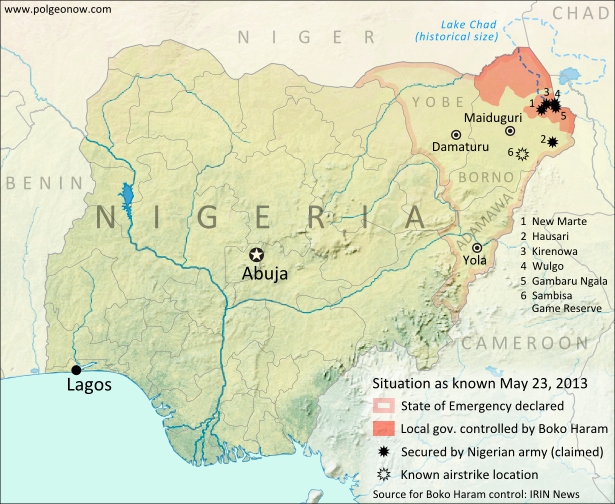 Brutalized residents of a once-bustling northeast Nigerian border town repeatedly attacked by Islamic extremists say they are moving across the border to Cameroon because they cannot trust Nigeria's government and military to protect them.
Their fears reflect mounting national and international outrage over failures of Nigeria's government and military as 276 girls abducted by extremists from a northeastern school four weeks ago remain in captivity.
The town of Gamboru had been targeted by militants in four previous attacks in the past year. But the fury and destruction wrought by an attack May 5 was unprecedented: more than 300 people were killed, and at least 1,000 shops, dozens of homes and 314 trucks and cars were bombed and burned out, said the chairman of the local Gamboru-Ngala government, Bukar Mustapha.
Bodies still are being found a week later amid the mangled tin roofs that are all that remain of the marketplace and in the surrounding bush where people tried to flee the killers, he told visiting Borno state Gov. Kashim Shettima on Sunday. They include traders from Cameroon and Chad.
The extremists also bombed the only bridge linking northeastern Borno to neighboring Chad and Cameroon, leaving a mess of concrete and twisted girders that now allows only light traffic. Lines of trucks ferrying goods are stuck on either side of the bridge.
Residents said they warned the military beforehand that they saw suspicious camps in nearby scrubland and suspected fighters of the Boko Haram terrorist network were preparing to attack. They suggested some soldiers are colluding with the extremists — not the first time such allegations have been made.
"We have more reasons now to believe a possible conspiracy may not be ruled out in the last attack, because the troops earlier stationed in the town were withdrawn a few hours before the gunmen laid siege," a spokesman for the residents, Modu Bulama, told The Associated Press.
The departing soldiers said they were being re-deployed along roads leading to Lake Chad to search for the schoolgirls abducted by Boko Haram, Bulama said, adding that he did not believe that.
President Jonathan said Sunday he was "very optimistic" that the girls will be rescued. But experts warn it will be difficult since the area where the students may be held is vast, ranging from dense forest to semi-arid desert.
Jonathan has agreed to attend a security summit in Paris focusing on Nigeria's homegrown Boko Haram terrorist network, a French official said Monday. France is waiting to hear from leaders from Nigeria's four neighbors, Benin, Cameroon, Chad and Niger, as well as representatives of Britain, the EU and the United States, said the French official who spoke official spoke on condition of anonymity because details have not been finalized for the summit to be held Saturday.
In Gamboru, Bulama said the town was "left to the mercy of policemen … who gallantly confronted the invaders" then fled because they were outnumbered and outgunned.
A similar story has come from Chibok, where extremists kidnapped the students. Town officials have told AP that they got a cell phone warning two hours before the attack and that the few soldiers in the town alerted a nearby barracks, but no reinforcements came.
In a February school attack in Yobe state, where at least 59 students were killed, including some burned alive, residents reported that a military checkpoint blocking the road to the school was unmanned two hours before the militants struck.
Gov. Shettima tried to reassure Gamboru residents with promises that victims would get financial help and that his government would rebuild the market and compensate traders for burned goods.
"We, the entire community, have long concluded arrangements to leave Nigeria for Cameroon, where we believe our lives may be well protected and safe", said trader Zannah Yerima. He said three of his brothers were killed in last week's attack.
Bulama added, "The latest incident proved that the federal government and its security forces have failed to protect our lives and properties," and the only alternative is to seek "permanent refuge in Cameroon."
More than 750,000 Nigerians have been forced from their homes, most within the country but tens of thousands in neighboring countries. Thousands have been killed, with more than 1,500 killed just this year.
ABC/AP