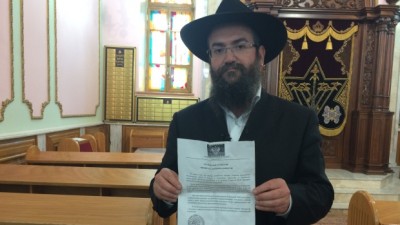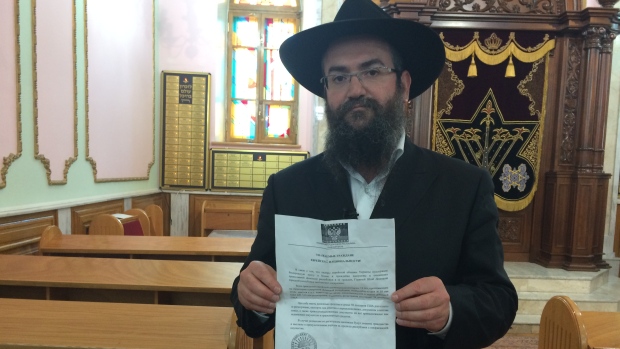 They're not much to look at. A black-and-white printout, in Russian, photocopied, featuring Russia's national symbol at the top. But the message is clear — and concerning: all Jewish citizens in the Donetsk region need to register with the pro-Russian authorities here or face deportation and the loss of property.
The leaflets, now seen around the world, have been condemned as "grotesque" by U.S. Secretary of State John Kerry.
About 50 flyers were handed out as members of the Jewish community in Donetsk were leaving their synagogue after a service on the eve of Passover earlier this week.
"All citizens of Jewish nationality over the age of 16 who live on the territory of the sovereign Donetsk Republic must, before May 3, 2014, appear before the Donetsk Republic commissar for nationality affairs in Room 514 of the government's offices. The cost of registration is $50 US," reads the second paragraph of the flyer.
Zalmen Shaikevitz was at the synagogue that evening.
"I see three guys with a mask, black mask. I was very afraid because I'm not used to [this]," he said.
'A very big shock'
The chief rabbi of Donetsk, Pinchas Vyshetsky, told CBC News that a number of members of his synagogue approached the three masked men and asked them to uncover their faces. When they refused, he says the men left quickly.
"A very big shock from me and from all of the other people," Vyshetsky said. "It was a very big shock…70 years after the war, 70 years after the Holocaust, to give to the Jewish people in Ukraine flyers with a text like that," Vyshetsky said.
It's not at all clear who is behind this leaflet. It bears the symbols of both Russia and the People's Republic of Donetsk, an unrecognized breakaway state proclaimed by pro-Russian separatists here, as well as the signature of the region's temporary governor, Denis Pushilin.
When CBC News contacted Pushilin, he denied that the People's Republic of Donetsk was behind the leaflet. Instead, he suggested this was an act of provocation.
Regardless of where it came from, this is a worrying development for Ukraine's Jewish community as their country struggles through a deep political crisis.
In the weeks since Viktor Yanukovych was ousted as Ukraine's president, pro-Russian and pro-Ukrainian sides have called each other "Nazis" and "fascists." Accusations of anti-Semitism have been traded as well.
Foreign Affairs Minister John Baird took to Twitter to denounce the leaflet, tweeting that "such an act would be absolutely outrageous & abhorrent."
While there are some who have called the flyers a hoax, the shocking message caught the attention of election monitors from the Organization for Co-operation and Security in Europe. Several observers visited the synagogue to speak to Vyshetsky Friday.
"This is not a joke. You know how this starts, but you don't know how it could be finished," Vyshetsky said.
By Derek Stoffel
CBC
This error message is only visible to WordPress admins
Error: No connected account.
Please go to the Instagram Feed settings page to connect an account.