Conditions not ripe to hold presidential elections; Berri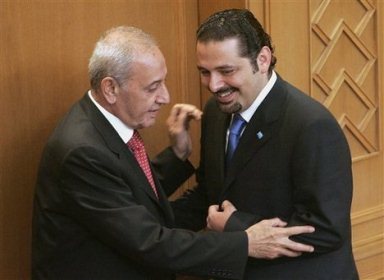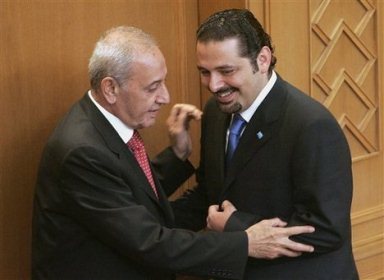 " Lebanon Speaker Nabih Berri sounded skeptical over the parliamentary session set to elect a president will be held, pointing out that the conditions to ensure its success are "not ripe yet "and expressed his hope that former PM Saad Hariri will attend the session, according to a report by As Safir newspaper on Friday.
"At this point in time the conditions may not be ripe , but that does not mean that they will not be present before next Wednesday." Berri said
The speaker had called on the MPs to meet at the parliament on April 23 to elect a new president to replace Michel Suleiman.
Asked if Future Movement leader MP Saad Hariri will attend the session, Berri replied: "I hope so and that he would remain in Lebanon permanently."
Media reports had linked a recent visit by Justice Minister Ashraf Rifi to Saudi Arabia to Hariri's return to Lebanon to attend the presidential elections session.
Commenting on the session, Berri said that he will kick it off once the quorum of two-thirds of lawmakers is met and then the election process could get underway.
"If a president is elected during this first round, then the elections would be complete, otherwise a second or third round may be held," he pointed out.
In addition, he revealed that he will chair a meeting for his Amal Movement bloc on Tuesday in order to discuss the presidential elections and agree on a candidate, reported al-Joumhouria newspaper.
"The March 8 camp only has one candidate and that is Free Patriotic Movement leader MP Michel Aoun. The March 14 alliance on the other hand has several candidates," he remarked.
Lebanese Forces leader Samir Geagea of the March 14 alliance is so far the only official to submit his candidacy.
He launched his presidential campaign on Wednesday.
A Future Movement delegation echoed Hariri's approval of Geagea's presidential candidacy and is expected to endorse it soon.
The March 8 camp has not yet announced its candidate, but Aoun has reportedly informed his ally Hezbollah that he is ready to take the post if there was consensus on him.
Aoun has allegedly sent similar messages to Hariri, who leads the March 14 camp.
The constitution stipulates that between March 25 and May 15, the parliament can convene at any time to elect a new president.
Berri has stipulated that any candidate must secure two-thirds of votes to win in the first round of elections and half-plus-one or 65 votes of the 128-member parliament to win in the second round.
Suleiman called on MPs to attend the April 23rd Parliament session to ensure quorum is achieved.
"They have no right to disrupt the quorum unless there are extremely compelling circumstances, which do not exist today at all," Suleiman told Abjad News website in an interview published Wednesday.
Suleiman also stressed that "political vacuum is not allowed at all and it is unacceptable that we reach it."
A new Lebanese president faces massive security and economic challenges, most of them related to the spillover from the civil war raging in neighboring Syria.