Patriarch al-Rai now open to March 14 or March 8 presidential candidate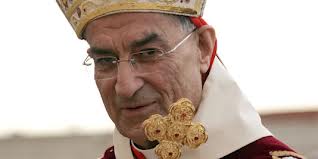 Maronite Patriarch Beshara al-Rahi stressed on Friday the need to stage the presidential elections on time, saying that he does not have the right to interfere in the elections.
He said upon his return to Lebanon from a trip to Geneva: "I have not rejected the nomination of any March 8 or 14 camp presidential candidate and I do not have the right to refuse any bid."
"We welcome any president who enjoys parliament's consensus, regardless if they support the March 8 or 14 camps," said the patriarch.
Parliament alone has the right to approve or reject a nomination, he remarked to reporters from Rafik Hariri International Airport.
"Parliament alone elects a president," he said.
"I advocate any president that is elected by the parliament and I will not veto any candidate," al-Rahi added.
"We must respect the constitution as it represents Lebanon's backbone," he said, while urging officials to hold consultations to stage the elections.
Moreover, al-Rahi rejected any presidential vacuum or attempts to create vacuum in the presidential post.
"We respect the constitution and would accept amending it only if the need arises," he stated.
President Michel Suleiman's six-year term ends in May but the Constitution states that the parliament should choose a new head of state within a two-month period, which started on March 25.
Speaker Nabih Berri is likely to call for a parliamentary session on April 22 or 23 to elect a new president, As Safir newspaper reported on Wednesday.
Lebanese Forces leader Samir Geagea is the only official to so far announce his candidacy.
Lebanese media have in recent weeks identified other presidential hopefuls as Kataeb party leader and ex-President Amin Gemayel, MPs Butros Harb and Robert Ghanem, who are like Geagea members of the March 14 alliance.
Other potential candidates are Hizbullah allies Free Patriotic Movement leader MP Michel Aoun and Marada Movement leader MP Suleiman Franjieh.
Naharnet