Mikati: next president will not unite Lebanon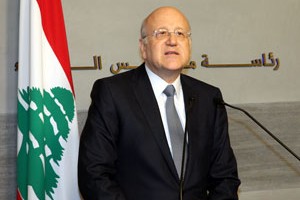 Former Prime Minister Najib Mikati said that although Lebanon is in need of a president all Lebanese parties agree on, he does not believe an all-encompassing candidate will be elected.
"The information I am seeing today is not in keeping with the election of a unifying president," Mikati told German broadcaster Deutsche Welle on Thursday.
"At around 45 days before the end of the deadline [for presidential elections] I don't see [any] positive indicators in that area."
The former prime minister said that despite this he hopes an all-encompassing personality will be chosen "because we need one in these very difficult circumstances. It is our duty to elect a president who has a conciliatory [background] and brings the Lebanese together."
Lebanon is set to elect a new head of state prior to the end of President Michel Suleiman's mandate, which expires on May 25, to avoid any presidential vacuum.
The constitution stipulates that between March 25 and May 15, the parliament can convene at any time to elect a new president.
If it has not done so by May 15, the parliament will be considered automatically in session for the following 10 days, in which a new president must be elected.
Now Lebanon