Sisi Yes, Morsi No: Sisi quits military to run for President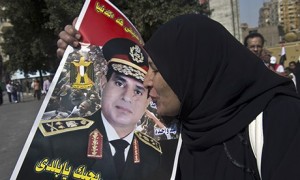 Egypt's army chief Abdel Fattah al-Sisi said Wednesday he had he quit the military to run for president, in a widely anticipated move almost nine months after he toppled the elected leader.
Sisi, who was also defense minister, faces no serious competition in the upcoming election, likely before June, and is expected to easily win the poll riding on a wave of popularity.
He declared his candidacy in a televised address.
His statement came after a meeting of top brass.
Before the meeting, the army chief gathered his belongings at his office in the defense ministry, the state-owned Al-Ahram newspaper reported on its website.
During the meeting, Mansour promoted army chief of staff Lieutenant General Sedki Sobhi, who is expected to replace Sisi as armed forces chief, to the rank of general, military officials said.
Sisi is easily the country's most popular political figure after he overthrew the freely elected but divisive Islamist president Mohammed Morsi in July.
He is riding on wave of nationalist fervor and demands for a firm leader who can restore stability after more than three years of turmoil since the overthrow of veteran president Hosni Mubarak.
But Morsi's supporters have not given up their campaign of protests against his ouster. At least one person was killed on Wednesday in clashes between pro-Morsi students and police, the health ministry said.
In all, at least 1,400 people, mostly Morsi supporters, have been killed in violence since his overthrow.