Obama congratulates Lebanese PM, pledges support from U.S.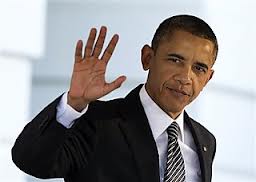 Prime Minister Tammam Salam on Friday received a phone call from U.S. president Barack Obama who congratulated him over the new cabinet's formation.
Obama stressed during the call on the importance of holding the presidential elections on time, before the constitutional deadline.
He also assured that the United States will continue supporting Lebanon.
Obama emphasized that the vote must take place without any foreign interference.
The U.S. president urged strengthening the disassociation policy, noting the importance of national unity.
Meanwhile, Salam expressed his appreciation of Obama's support, vowing to preserve Lebanon's democratic path.
Almost a year since he was designated, Salam won on Thursday a parliamentary vote of confidence after 96 MPs voted in favor of his government.
The government line-up was announced on February 15, after 10 months of political wrangling.
But another five weeks were needed for final parliamentary approval because of disagreement within the government over the thorny issues of resistance against Israel and the Baabda Declaration.
However, last week, the cabinet agreed a compromise formula that no longer accords Hizbullah a specific "resistance" role, yet affirms that all citizens have the "right to resist the Israeli occupation, repel its attacks and take back the occupied territory."
After all the time taken to form it, the new government's mandate is set to expire by May 25. That is the date by which parliament must vote on a new president, who will then choose a new government.
Naharnet