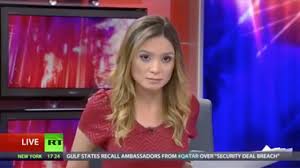 An American journalist said she was quitting a Russian-backed TV station in an on-air protest Wednesday, telling viewers "I cannot be part of a network funded by the Russian government, that whitewashes the actions of [President Vladimir] Putin."
Liz Wahl, an anchor for the English-language network RT, made her announcement after criticism that RT, also known as Russia Today, had taken a sympathetic stance on the Russian intervention in Ukraine's Crimean peninsula.
A day earlier, RT journalist Abby Martin made on-air remarks critical of the Russian government's actions in Crimea, telling viewers, "What Russia did was wrong."
Wahl prefaced her resignation Wednesday by citing Martin's remarks, adding, "Indeed, as a reporter on this network, I face many ethical and moral challenges, especially me personally…. My grandparents came here as refugees during the Hungarian revolution, ironically to escape the Soviet forces."
After telling viewers that the network "whitewashes" the actions of Russian President Vladimir Putin, Wahl said, "I'm proud to be an American and believe in disseminating the truth, and that is why, after this newscast, I am resigning."
Wahl and a representative for RT did not immediately respond to The Times' requests for comment. RT's American channel broadcasts from Washington, D.C., according to the network's website.
LA Times
This error message is only visible to WordPress admins
Error: No connected account.
Please go to the Instagram Feed settings page to connect an account.