Gemayel: No Lebanon consensus on concept of resistance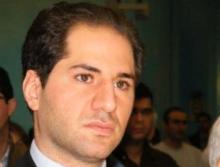 Phalange Party MP Sami Gemayel lashed out at the politicians who are calling for preserving the Lebanese's "right to resistance" in the ministerial statement.
"Does that mean that we will live in a jungle and give weapon licenses to all Lebanese?" Gemayel said in a statement on Thursday following his meeting with Speaker Nabih Berri.
"There is no consensus on the [concept of] resistance," he added.
Gemayel went on to stress the importance of the Baabda Declaration, and said that "Hezbollah alone has its reservations against this Declaration."
The new 24-minister cabinet, formed after months of political bickering, has been preparing the ministerial statement with which it will stand before parliament for a vote of confidence.
The role of "the resistance" against Israel is a main point of contention for
The committee in charge of drafting the ministerial policy statement of the new 24-minister cabinet header by PM Tammam Salam has met several times but so far was unable to reach any decision, primarily because Hezbollah and its allies have been insisting on including on including the resistance formula "Army + People + Resistance".
Instead of the formula March 14's suggested using "Lebanon's right to defend itself." But Hezbollah is insisting on using the formula .
Speaker Berri, a close ally of Hezbollah was quoted as saying : If Hezbollah is indifferent about the resistance formula , I will insist on incorporating it in the policy statement" .
As usual Lebanon is back to square 1. It took Salam over 10 months to form the cabinet which is supposed to be a temporary one and now no one knows when it will be able to start functioning