Israeli troops on alert after Hezbollah threat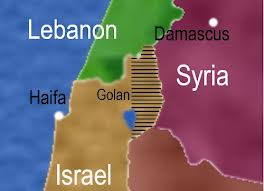 Israeli troops along the border with Lebanon were on high alert Wednesday night after Hezbollah threatened action over what it said was an Israeli air raid, army radio said.
"The military ordered farmers to stay away from the border… and there was movement of military vehicles around border communities," the radio said.
The army itself did not make any statement.
Earlier Wednesday, Hezbollah threatened to retaliate after Israel's first reported air raid targeting a position of the Lebanese Shiite movement since a 2006 war between them.
The threat came two days after Israeli warplanes reportedly struck a Hezbollah position in eastern Lebanon, amid fears the region might be dragged into further conflict over the Syrian civil war.
Hezbollah is an ally of Syrian President Bashar al-Assad, and its forces are fighting alongside his against rebels seeking to overthrow him.
Israel has not acknowledged the raid, but officials have confirmed a general policy of interdicting suspected arms deliveries from Syria to Hezbollah.
"We are doing everything that is necessary in order to defend the security of Israel," Prime Minister Benjamin Netanyahu said Tuesday.
"We will not say what we're doing or what we're not doing," he said.
AFP