Venezuelan President faces criticism from within his party
A state governor and longtime ally of Venezuelan President Nicolás Maduro condemned attacks on protesters that have roiled the country, becoming the first critical voice from within the ruling party's ranks.
José Vielma Mora, the governor of Táchira state and member of the United Socialist Party, told a Caracas radio station on Monday that he was opposed to the force being used to put down student rallies in his state in western Venezuela.
The rallies buffeting Venezuela began three weeks ago in Táchira, with students first rising up to protest rampant crime. The rallies spread to cities nationwide, with hundreds of thousands of people voicing anger over a dysfunctional economy, high inflation and corruption.
"I am against putting down a peaceful protest with weapons," the governor said in an interview with Onda, the radio station. "No one is authorized to use violence."
He characterized the government's deployment of heavily armed security forces, and the use of Russian Sukhoi fighter jets over the state capital of San Cristóbal, as excessive and unnecessary. Mr. Vielma also said he pushed for a National Guard general to be relieved of his command for his rough handling of the protesters, who have told Venezuelan media of being beaten and arrested.
"It's a sign that I'm against repression," said Mr. Vielma. explaining that the general was relieved and replaced.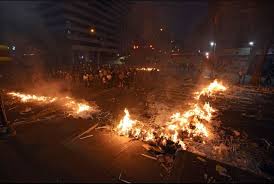 Mr. Vielma's comments are particularly bracing in Venezuela because he was among the first to have joined Mr. Maduro's predecessor, Hugo Chávez, when he led a failed coup in 1992.
Mr. Vielma, a military officer like Mr. Chávez, participated in the failed uprising that made Mr. Chávez a household name. Six years later, Mr. Chávez won the presidency, sweeping his leftist movement and close allies—among them Mr. Vielma—into power with him.
The governor stressed that he hadn't broken away from the government but said he was in a difficult situation.
"From my side, they are calling me a coward," Mr. Vielma said, adding that he had to respond to the citizens of his state. The governor later said he still backed the Socialist Party and remained loyal to Mr. Maduro. But he didn't repudiate his comments criticizing the government's handling of the protests in his state, where they have been particularly large and unrulyEfforts to reach Mr. Vielma through his press office were unsuccessful.
The governor's comments came as the opposition's most prominent leader, Gov. Henrique Capriles of Miranda state, declined an invitation to participate in a meeting Monday afternoon at the presidential palace with top government officials and other governors.
A day earlier, Mr. Maduro said he wanted Mr. Capriles to be there to discuss the unrest. But Mr. Capriles described Mr. Maduro's offer as an effort to cover up what he called repressive tactics. He said the protests would continue if the president didn't open up a direct channel to discuss his governing style and policies with his political foes.
"If you don't recognize that half the population is unhappy, then they aren't going to recognize you either," Mr. Capriles said. "The only thing Maduro wants is a handshake photo to show the world that everything is fine."
Mr. Vielma also told the radio station that he opposed the imprisonment of Leopoldo López, a 42-year-old politician from the affluent east of Caracas who had surrendered to authorities Feb. 18 after he was accused of having incited a deadly protest on Feb. 12.
Mr. Vielma's comments seemed to energize people such as José Luiz Nuñez, a 45-year-old chauffeur who was protesting Monday in Caracas.
"Look, the members of their own government are doing an about-face," Mr. Nunez said. "The government knows that this country is a disaster. They are scared."
On Monday, there was no end in sight to the protests, though Mr. Maduro had said the day before that the demonstrations were losing momentum. Attorney General Luisa Ortega announced the protests had led to 13 deaths, with at least one in Táchira.
In Caracas, antigovernment protesters set up barricades across the city, using tree trunks, trash and debris to close off roads. Demonstrators in other cities also blocked roads, leaving traffic in knots.
Demonstrators said they were trying to pressure Mr. Maduro into releasing Mr. López, the opposition leader. Mr. López, who is now being held in a military prison on the outskirts of the capital, has denied committing any crime.
"We are barricading the streets to bring the city to a halt, and it has been successful," said Luisa Malave, 23 years old and a recent university graduate. "We are out here because of all the problems of the country, the crime, the shortages, the lack of opportunity."
Another protester, Carlos Fronterotta, 26, who is studying to be an accountant, said demonstrators were "enraged" by the government crackdown. That, he said, has given the protests momentum.
"We have been repressed in a way that you can only describe as a dictatorship,"he said. "We have been left blind without media outlets reporting the news. I have never been part of protests before but I just felt like I need to be part of the marches."
WSJ