Lebanon Judge issues arrest warrant for Ali Eid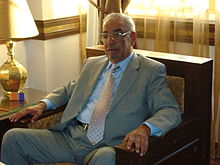 First Military Investigative Judge Riad Abou Ghaida issued an arrest warrant in absentia for Arab Democratic Party founder and former Alawite MP Ali Eid , who is accused of smuggling a man involved in the Tripoli bombing out of the country.
Eid's supporters gathered in front of his residence in Hakr al-Dahiri to protest against the judge's warrant. He later circulated a message asking them to remain calm.
Last year, Ali Eid, the father of ADP leader Rifaat Eid, did not heed the Lebanese judiciary's summons to appear before court for questioning, citing health reasons for his absence.
"Even if the master of the master of Judge Saqr Saqr came to get me I would not go to be interrogated," Eid said during a press conference last November after Judge Saqr charged Eid and his bodyguard Ahmed Ali for smuggling Ahmad Merhi , a wanted fugitive to Syria, and after he was summoned by the Information Branch to testify "in the case of planning and facilitating the escape of Merhi, one of the main suspects of the Tripoli explosions."
Last november when Eid was summoned the Syrian army deployed around his house in Hakr al-Dahiri which lies exactly on the Lebanese Syrian border .
Eid is a staunch supporter of the Syrian regime .