Al Qaeda linked Syrian rebel commander killed in bombing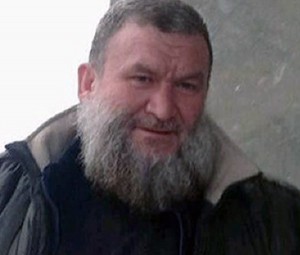 A well-known Syrian rebel commander who was close to Al Qaeda's leadership was killed Sunday in a suicide bombing linked by some to an Al Qaeda breakaway group, opposition activists said.
The attack in the northern city of Aleppo was the latest apparent incident of infighting among rebel factions ostensibly united in their commitment to ousting the government of Syrian President Bashar Assad. Intra-rebel battles have raged in recent weeks in northern Syria.
Killed in the strike was a militant leader known by the pseudonym Abu Khaled al-Suri, co-founder of the Islamist Syrian rebel group Ahrar al Sham, according to various opposition accounts. Also killed in the attack were at least five other fighters from Ahrar al Sham, according to the Syrian Observatory for Human Rights, a British-based pro-opposition monitoring group.
The slain leader, acclaimed in Islamic militant circles, was said to have fought against U.S. forces in Afghanistan and Iraq and reportedly was an acquaintance of top Al Qaeda leadership, including the late Osama bin Laden and his successor, Ayman Zawahiri.
Late last year, Zawahiri was reported to have named Suri to mediate a dispute between rival Al Qaeda factions in Syria.
The almost three-year civil war in Syria has become a magnet for Al Qaeda operatives and Sunni Islamist fighters from across the globe. The proliferation of radical groups has dismayed U.S. policymakers, who have funneled millions of dollars in aid to what Washington calls "moderate" rebel factions.
Some reports pointed the blame for the assassination at the Islamic State of Iraq and Syria, or ISIS, an Al Qaeda breakaway faction that has a powerful presence in Syria. The group has attracted fighters from throughout the Middle East, Europe and elsewhere.
For weeks, the ISIS has been engaged in battles with other rebel factions for dominance in opposition-held swaths of northern Syria. Al Qaeda's leadership has disavowed any link to the group.
In various posts on social media sites, ISIS supporters denied that the group was behind the killing of the commander, who appeared to be widely admired in jihadist circles.
Weeks of intra-rebel violence have provided an opening for Syrian government forces to advance in Aleppo an elsewhere in Syria.
In another, apparently unrelated incident, a car bomb exploded Sunday in the strategic, rebel-held town of Atmeh in northern Syria, killing at least a dozen people, according to news agency and opposition reports. The attack was the latest in a series of car bombings in rebel-held territory in Syria near the Turkish border.
Atmeh, less than two miles from the Turkish frontier, has served as a logistics base for various rebel factions and as a terminus for materiel being shipped from Turkey to rebel groups inside Syria. The town, which hosts a sprawling tent city, has also been a refuge for thousands of displaced and injured Syrians. Some reports indicated the suicide bomb targeted a hospital. No one publicly took immediate responsibility for the attack.
LA Times
Photo: An undated handout picture provided by SITE Intelligence Group on February 23, 2014 allegedly shows Syrian Islamist leader Abu Khalid al-Suri at an undisclosed location in Syria. Suri, who was appointed last year by Al-Qaeda chief Ayman al-Zawahiri as his representative, died in the northern city of Aleppo, the rebel Islamic Front announced on its Twitter account today. AFP PHOTO / HO / SITE INTELLIGENCE GROUP