Protesters vow to turn Venezuela into another Ukraine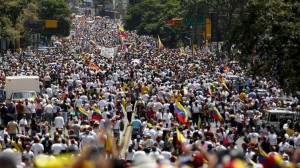 Caracas- While rushing away from a rainfall of tear-gas canisters in a leafy quarter of Caracas a well-informed 22-year-old student, who wishes to remain unnamed, cries: "We could turn Venezuela into Ukraine!" after news broke of the overthrow of President Yanukovich.
As the death toll from 10 days of violence rose to at least eight, at dusk on Saturday he was among the demonstrators in Caracas's Plaza Altamira, an opposition stronghold, hurling rocks at security forces at the end of a march that drew in tens of thousands of people.
The upper middle-class area has become an emblematic battleground in recent weeks, as the volatile Caribbean nation reels from the biggest street protests since socialist President Nicolás Maduro narrowly won an election in April to replace the late charismatic leader Hugo Chávez.
At nightfall, police and soldiers on motorcycles patrol some areas of Caracas, using tear gas and rubber bullets to disperse protesters who block streets with barricades of smouldering rubbish and wire strung across roads.
What began as student-led demonstrations in the western city of San Cristóbal calling for a crackdown on rampant crime earlier this month has spiralled into a wave of unrest. Protesters blame Mr Maduro for a litany of persistent problems, including high inflation and shortages of staples.
However, the protests appear to be a widespread expression of discontent, without much of a political goal. "We are shouting for the millions who are struggling with many woes," says David Smolansky, an opposition leader.
"Now they are repressing us, they are persecuting us, they are jailing us. If the government keeps acting like this, they will have to brace themselves for more protests," he adds.
But Mr Maduro said he would not allow "fascist" protesters to let the country slide, as he blasted at them for plotting a "coup" with US backing. He even challenged President Barack Obama on Friday to a "high-level dialogue to put truth on the table."
Mr Maduro focused his attention on smaller groups involved in violent clashes, and on Saturday called on a national peace convention to take place this Wednesday, in order to "neutralise" them.
Opposition protesters, on the other hand, say "paramilitary" government supporters attack them with clubs and guns, and urge authorities to disarm them.
Observers say there is no clear indication the wave of protests is a serious threat to the leftwing president for now, even if it might fuel divisions within the president's own socialist party. The opposition, notwithstanding, also appears to be struggling with divisions between its moderate members and a more radical wing.
Reportedly, the government has sent the military to the state of Táchira, an opposition stronghold bordering Colombia, where Mr Maduro faces the stiffest resistance. Rafael Ramírez, the powerful oil minister, warned on Friday that he may cut off deliveries of fuel to areas hit by a "fascist siege".
Cilia Flores, Venezuela's first lady, also appears determined to stop the unrest, stating on Saturday: "Venezuela is not Ukraine."
Some observers agree with her that Caracas' Plaza Altamira is not Kiev's Maidan Square because the intensity of the Venezuelan protests is not yet comparable with those there, nor with the demonstrations about a decade ago against Mr Chávez.
"Many think there will be a contagion [with Ukraine], but we are far from there," says Ángel Álvarez, a professor of political science at the Andres Bello University in Caracas.
The government is charging the fiery opposition leader Leopoldo López, who surrendered to authorities last week, with arson and conspiracy.
According to Mr Álvarez, some rushed to compare his situation with that of Yulia Tymoshenko, the heroine of Ukraine's 2004 Orange Revolution, who was freed from jail on Saturday.
"What happened in Ukraine is fuelling hopes among some of Leopoldo's followers, thinking if they stay out in the streets they will force the government to release him. But it won't be that straightforward," says Mr Álvarez.
Mr Maduro and Mr Capriles are expected to meet on Monday.
Amid a generalised tension, however, there are few signs of protest dying down. Opposition leader Henrique Capriles, who was defeated in last year's presidential election, asked his supporters during a rally on Saturday to carry on with the protests, as long as they were peaceful, and he demanded the release of Mr López.
Opposition demonstrations in the capital have mostly taken place in middle-class neighbourhoods. But while some protesters are asking for Mr Maduro's resignation, the military appears quiet in its barracks and the government is still backed by big pockets of Venezuela's impoverished majority.
"If we lose this president, we'll lose all the gains of the socialist revolution," says Israel Ríos, while marching towards the presidential palace to support Mr Maduro. "We won't let that happen, but we don't want bloodshed like in Ukraine, we just want a peaceful Venezuela."
Financial Times