Angelina Jolie on a humanitarian mission in Lebanon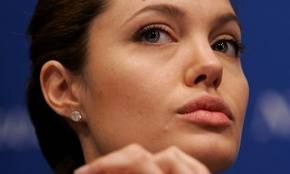 The daily an-Nahar newspaper reported Sunday that Oscar-winning actress Angelina Jolie, Special Envoy for the United Nations refugee agency is currently in Lebanon for a two-day humanitarian mission aimed at checking on the situation of the Syrian refugees in the Bekaa region.
According to an-Nahar, Angelina Jolie is staying at the Cristal Grand Hotel Kadri in Lebanon's Zahle . She took Sunday a tour of refugee camps in the region of Dalhamiyé between Zahle and Riyak. Journalists have been summoned by security forces to ask them to leave Jolie alone and not interfere with her mission.
Angelina Jolie visited the Middle East several times to draw attention to the plight of the families who have escaped Syria during the bloody fighting between rebels and government forces.
She last visited Lebanon in September 2012 . During her visit she was welcomed by president Michel Suleiman at the Baabda palace and was quoted as saying , "I was moved to meet Syrian families… in homes where they are welcomed and protected."
Lebanon, which is hosting the largest number of Syrian refugees ( almost 1 million) decided against having refugee camps .
Back in September 2012 the number of registered Syrian refugees in Lebanon was 67,000