Lebanon's ISD arrests 2 suspects in Beirut Bombings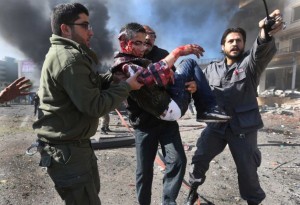 Al Hayat newspaper learnt that the Information Division at the Internal Security Forces arrested last Saturday Lebanese national Hassan Abu Alfa and found out after investigation that he is the right hand man of one of the leaders of of Abdullah Azzam Brigades, Sheikh Sirajuddin Zureiqat, who is based in Syria and well known as the mastermind of the suicide bombings.
The Information Division also arrested early Wednesday before the twin suicide bombings in Bir Hassann the cousin of Abu Alfa , Mahmoud Abu Alfa , who admitted after the twin bombings that he was charged with monitoring the Iranian cultural Chancellery building and Hezbollah's Al-Manar TV building . Security sources reported that Mahmoud Abu Alfa said in his confession that he was not aware of the twin blasts .
Security sources added that Hassan Abu Alfa , was placed under surveillance a month before his arrest and before knowing his name and identity , due to a communication between him and Sheikh Zureiqat via Skype. Abu Alfa used to erase at all times all information from his laptop after making contacts with Zureiqat . The security sources added that Abu Alfa seemed knowledgable in explosive devices , but when he was found at his home in Tariq Al Jadida Road last Saturday he only had his personal pistol and no documents were found because he erased all the information from his laptop and did not use a cell phone in his contacts .
It is suspected from the investigation that Hassan Abu Alfa is the one behind the bombings which targeted the Iranian embassy last November.