Fatfat: our ministers will quit if resistance formula adopted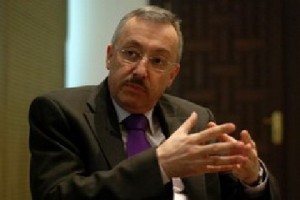 Following a meeting with Lebanese Forces leaders in Maarab, Future Movement MP Ahmed Fatfat was asked to comment about the army+people+resistance formula and the lawmaker ruled out the possibility of including it in the ministerial policy statement, whether directly or indirectly.
"Hezbollah has realized that the party's intervention in Syria is imposing great threats on it and its popular base as we are on the doorstep of a historical stage that compels us to act responsibly and take straightforward stances," Fatfat said .
He warned that "if the there was no intention to safeguard Lebanon from its crises then the national unity cabinet doesn't exist."
He reiterated that the "dissociation policy is Lebanon's only salvation."
Fatfat revealed that several Future movement lawmakers support the withdrawal of the party's ministers from the cabinet if "the army+people+resistance equation was adopted in the ministerial policy statement."
Repairing ties
Fatfat held talks with Geagea in an attempt to rectify ties between the two parties after the formation of Prime Minister Tammam Salam's cabinet.
Fatfat stressed after a two-hour meeting in Maarab that the two parties are "allies," pointing out that "it's is a necessity to reconsider the current political stage after the formation of the new government, which we hoped that the LF would have been part of."
However, Fatfat pointed out that the Future movement "respects the stance of the Lebanese Forces."
Ties have deteriorated between Future Movement and the Lebanese forces after former lebanese PM and Future Movement leader MP Saad Hariri agreed to participate with Hezbollah in Salam's government.
Geagea decided to stay out of the cabinet as long as Hezbollah remains in Syria fighting alongside the forces loyal to president Bashar al Assad.