at least 50 reported killed in Kiev…truce shattered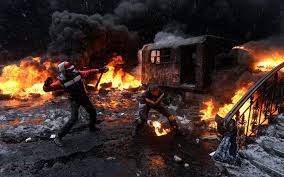 KIEV, Ukraine — Fierce fighting broke out Thursday between government forces and protesters in the Ukrainian capital, shattering a truce declared hours earlier and leaving scores of people dead.
A top human rights official said at least 50 people were killed in the clashes that erupted Thursday morning in the streets around Kiev's Independence Square. Other estimates of the death toll were considerably higher.
Protesters threw molotov cocktails at riot police and captured dozens of them, parading them to a makeshift detention center with their hands held high. Government snipers fired at the protesters, killing or wounding hundreds, according to an opposition doctor.
"I'm dying," tweeted volunteer medic Olesya Zhukovskaya after being shot in the neck while trying to aid fallen protesters. She was later reported to be in serious condition while undergoing an operation.
"A horrible tragedy has been happening on the streets in Kiev and other cities of Ukraine," Valeria Lutkovska, human rights commissioner of the Ukrainian parliament, said in a statement Thursday afternoon. "Information that I have indicates that about 50 people have been killed as of today, but there have been reports that there are many more victims. Hundreds of people have been hospitalized."
Oleh Musiy, coordinator for the protesters' medical team, said at least 70 protesters were killed and more than 500 injured in Thursday's clashes with police, and he warned that the death toll could rise, the Associated Press reported.
A spokesman for the Interior Ministry, which fields the country's riot police, said three policemen were killed Thursday and 28 sustained gunshot wounds, AP reported.
In Washington, the White House called on Ukrainian President Viktor Yanukovych to "immediately withdraw his security forces" from downtown Kiev and to "respect the right of peaceful protest." The statement Thursday also urged protesters "to express themselves peacefully."
In Brussels, the 28-nation European Union decided unanimously Thursday in an emergency meeting to impose sanctions against Ukrainian officials deemed responsible for the violence, including a ban on travel to E.U. countries and the freezing of foreign assets. It said the targeted officials were "those responsible for human rights violations, violence and use of excessive force," but it did not immediately name them.
The E.U. also announced a suspension of arms sales to Ukraine and called for "the formation of a new inclusive government and the creation of the conditions for democratic elections."
Lutkovska said she had visited a number of Kiev hospitals, which she said are "packed" with gunshot wound victims.
She spoke after police and demonstrators battled each other in the latest escalation of the political crisis that has gripped Ukraine for the past three months. More than 100 people have been killed in the clashes in Kiev this week, AP said. Authorities said that as of Wednesday, 800 people had been injured and that 10 of the 26 people killed were Interior Ministry troops.
The Interior Ministry said 67 of its troops were captured Thursday by demonstrators. The captives were taken to a government building occupied by the opposition, news agencies reported. On a hill south of Independence Square, the protest movement's epicenter also known as the Maidan, the parliament and cabinet buildings were evacuated.
Videos indicated that some protesters have sniper rifles, and police were shown shooting automatic weapons.
The Interior Ministry announced that it was issuing military-grade weapons to the police, while saying they were to be used only in accordance with the law.
Initial reports of the death toll from the latest violence varied. The Associated Press reported that 21 bodies were laid out on the edge of the protest encampment. Witnesses said they saw 10 bodies at a medical station on Independence Square.
"We are outraged by the images of Ukrainian security forces firing automatic weapons on their own people," the White House said Thursday. "We urge the Ukrainian military not to get involved in a conflict that can and should be resolved by political means," it added. "The use of force will not resolve the crisis — clear steps must be taken to stop the violence and initiate meaningful dialogue that reduces tension and addresses the grievances of the Ukrainian people." The statement vowed that the United States would "hold those responsible for violence accountable."
Vitali Klitschko, a former heavyweight boxing champion who has emerged as a leading opposition figure, called on parliament to convene Thursday afternoon to find a resolution to the crisis. The Russian Foreign Ministry, meanwhile, demanded that opposition leaders put a stop to the violence.
Russia's Interfax news agency said a group of legislators from the ruling Party of Regions seconded Klitschko's call for parliament to meet at 3 p.m. The newly appointed mayor of Kiev quit the Party of Regions Thursday.
A truce reached late Wednesday between President Viktor Yanukovych and three main opposition political leaders has not been formally renounced, but the fighting demonstrated how neither side appears to have control over its armed contingents.
The development came as U.S. and European leaders condemned the violence and the United States said it was imposing visa sanctions on 20 Ukrainian officials. Russia, meanwhile, condemned the opposition.
The pressure on Ukraine — internal and external — has only increased, and the two sides are so far apart that reconciliation appears impossible. They are now faced with the challenge of getting the country back on track even without reconciling politically.
The hostility between Yanukovych and the political opposition is deep and intense, and now has been paid for in blood. Regional differences are flaring, with governors in the east near the Russian border denouncing the protesters and demanding a crackdown, while in the west, cities are declaring virtual autonomy from the central government. Opposition leaders, for their part, are leading a movement that includes hard-line militants who are not keen on political compromise.
Abroad, the Western nations and Russia blamed each other for supporting one of the two sides in Ukraine's long-running political crisis.
The country, which has experienced regular bouts of political turmoil since the downfall of the Soviet Union two decades ago — but never the sort of violence seen Tuesday — appears to be at a point of fracture.
That may now be extending to the government itself.
As fires continued to burn Wednesday on the Maidan, forming a buffer of flame and thick greasy smoke between protesters and police, the state security service announced that it was launching an "anti-terrorist operation." A little while later, the Defense Ministry said it might join in.
It appeared as though a serious escalation was in the works. But then Yanukovych fired his chief military commander Wednesday evening.
Col. Gen. Volodymyr Zamana was quoted a month ago as saying that the armed forces should never be used against Ukrainian civilians, and this may have been the reason for his ouster.
The Ukrainian army is not as well-funded or powerful a force as the Interior Ministry. Nonetheless, it wields heavy weaponry that the opposition fears may come into play.
U.S. military leaders have been unable for the past several days to reach their Ukrainian counterparts to warn them against getting involved in the crisis, a senior U.S. official said Wednesday night, and this is a matter of some concern.
Ukraine's military has joined with NATO in Iraq and Afghanistan and has particularly close relations with the Polish military. But Poland has been Yanukovych's most vocal critic, and that may leave him uncertain of his own army's loyalty in a fight portrayed as East vs. West.
Small but violent protests Wednesday left several people wounded and one reported dead in the Black Sea port of Odessa and in the western city of Khmelnytskyy.
In the east — in Donetsk, Yanukovych's home town, and Kharkov — governors talked tough about defeating the protests.
But the city of Lviv in western Ukraine effectively declared itself autonomous of the central government. In nearby Ivano-Frankivsk, the local commander of the security forces pledged not to carry out or give any illegal orders.
OBAMA WARNS BOTH SIDES
The Russian Foreign Ministry, which backs Yanukovych, said Tuesday's violence was an attempted coup by the opposition, and Foreign Minister Sergei Lavrov called on Western countries to use their influence with the opposition to force it into negotiations with the government.
The White House and the European Union strongly criticized Yanukovych earlier Wednesday, blaming him for the violence.
President Obama had warnings for both Yanukovych and protest leaders.
"I want to be very clear as we work through these next several days in Ukraine that we're going to be watching closely and we expect the Ukrainian government to show restraint, to not resort to violence in dealing with peaceful protesters," Obama said. "We've also said we expect peaceful protesters to remain peaceful, and we'll be monitoring very closely the situation, recognizing that with our European partners and the international community there will be consequences if people step over the line."
E.U. Commission President José Manuel Barroso expressed "shock and utter dismay" Wednesday over the "violence and use of excessive force," which he blamed on Ukraine's "political leadership." He said he expects the E.U. to agree on "targeted measures against those responsible."
The Swedish foreign minister, Carl Bildt, said Yanukovych "has blood on his hands."
Bildt said Ukraine would have been on its way to a better future by now, with a trade agreement with the E.U., were it not for threats from Moscow.
There have been guarded expressions of unease within the ruling Party of Regions over the violence. Ukraine is without a prime minister a month after Mykola Azarov was forced from office. Rinat Akhmetov, an oligarch once very close to Yanu­kovych, has called for an end to violence by both sides.
If an "anti-terrorist" campaign begins, it is not clear what it will entail or how effectively it can be carried out. Government officials say hard-line protesters have stolen 1,500 firearms during the three months of demonstrations and have used them against police.
A special operation would presumably give the security service the authority to seize people and property without court orders for a specified period.
Vice President Biden has warned Yanukovych several times — most recently on Tuesday — against declaring a state of emergency.
The Defense Ministry denied that armored units were moving to Kiev. Paratroop battalions have been deployed to guard Defense Ministry sites, but not to take part in an attack on protesters, officials said.
FOCUS ON RIGHTISTS
Yanukovych, echoing the Russians, has said that the top political leaders of the opposition must disassociate themselves from the right-wingers among the protesters who have done most of the fighting with police.
Helmeted young militants of the group that calls itself Pravy Sektor have without question complicated the role of more moderate political leaders and, in important ways, have helped set the opposition agenda. Opposition politicians have been careful not to have a falling-out with their most committed wing.
In a joint statement, the three main opposition parties said they were not responsible for Tuesday's deadly violence.
"We have never called and never will call people to pick up arms," it said. "This is our principled stance. The death of any person is a personal tragedy for each one of us."
Washington post