UNHCR: Almost 1 million Syrian refugees in Lebanon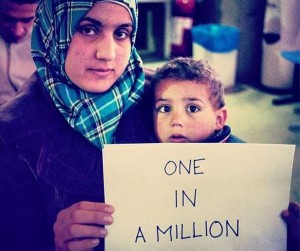 The United Nations High Commission for Refugees (UNHCR) reported in its weekly update on Monday that the total number of Syrian refugees in Lebanon has risen to over 927,638 while the number of registered refugees is 879,907
There are currently 47,731 Syrian refugees distributed across Lebanon who are still awaiting registration, according to the report.
During the conflict in Syria which began in March 2011, more than 140,000 people were killed , over 10 million were displaced in the Syrian territory and over two and half million fled to neighboring countries. Most of the Syrian refugees are in Lebanon , Jordan , Turkey and Iraq.
This number does not include the nearly 600,000 Syrian workers who come here to work in agriculture and construction.
At least one in 3 residents of Lebanon is now a Syrian national according to reports.