Serail palace welcomes its new occupant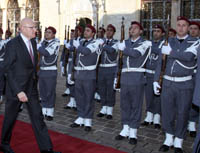 Tammam Salam was welcomed on Monday by the Grand Serail staff members after he arrived to begin his work as Lebanon's new prime minister.
He was also welcomed by cabinet secretary-general Suhail Bouji and senior government staff .
Guards saluted him as he walked into the building to officially assume his new post.
Situated atop a hill in downtown Beirut a few blocks away from the Lebanese Parliament, The Grand Serail, also known as the Government Palace is the headquarters of the Prime Minister of Lebanon.
The first challenge for Salam's new cabinet is to agree on the ministerial policy statement.
The cabinet will hold its first session at Baabda Palace on Tuesday to form the committee that would draft the statement.
After nearly eleven months of bickering Salam finally announced on Saturday the formation of a 24-minister cabinet.
Since Salam's appointment in April last year, efforts to form a government had stumbled over disputes between Hezbollah, whose fighters have been helping the Syrian army crush the revolt, and March 14 which backs the Sunni-led uprising.
The 24 portfolios are divided equally between three groups ; the Hezbollah led March 8 alliance, The March 14 alliance and the centrist bloc which includes Salam, president Michel Suleiman and PSP leader Walid Jumblatt.
The cabinet includes all Lebanese parties, except for the Lebanese Forces, which maintained its stance against participating in a cabinet that includes ministers representing Hezbollah, as long as the militant group continues its engagement in the Syrian war alongside the regime of President Bashar al-Assad.