Lebanon's Hariri: We are the moderates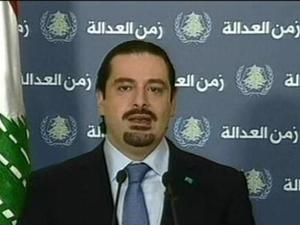 Leading Lebanese politician Saad al-Hariri vowed on Friday to tackle sectarian radicalism in his Sunni sect but said Shi'ite Hezbollah must end its involvement in Syria if Lebanon is to avoid being drawn into a "sectarian holocaust".
Citing the example set by his father Rafik al-Hariri on the 9th anniversary of his assassination, Hariri said moderation must win out as Lebanon faces violence fueled by the Syria war and a political impasse that has left it without a government.
"We will confront incitement and dubious calls to drag Lebanese, particularly the Sunnis, into crazy wars with no use other than to pull Lebanon into a sectarian holocaust," he said.
Hariri was speaking to his supporters from an undiscolsed location abroad via video link. He has in the past cited security reasons for staying outside Lebanon.
Hariri's comments were a firm reassertion of his leadership over a Sunni population where the influence of radical groups has started to grow because if the Syria conflict. It also follows a move by Saudi Arabia, his main regional backer, to jail citizens who go overseas to fight.
The Syria conflict has worsened sectarian tensions in Lebanon. Syria's rebels are mostly Sunnis, while President Bashar al-Assad belongs to the Alawite faith, an offshoot of Shi'ite Islam.
In Lebanon, the conflict has also increased the pull of radical Sunni ideas espoused by groups such as the Islamic State in Syria and the Levant (ISIL) and the Nusra Front, some of the most powerful factions in the insurrection.
Hezbollah-controlled areas of Beirut have been hit by five car bomb attacks in recent months. One aide of Hariri, who heads the Future Movement party, former finance minister Mohamed Chatah, was also killed in a bomb attack in December.
"As the Future Movement rejects the example of Hezbollah, we reject the example of ISIL and Nusra, and any call to embroil the Sunnis in Lebanon in the war between Hezbollah and al Qaeda," Hariri said.
"Confronting terrorism requires a quick decision from Hezbollah to get out of Syria," he added, describing participation in the Syria war as the greatest threat to Lebanon's stability and coexistence between its Muslim sects.
Last month, five members of Hezbollah went on trial in absentia at The Hague, accused of killing Hariri.
That killing fueled tensions between Lebanese Sunnis and Shi'ites and led to a string of political crises in Beirut. Hezbollah, backed by Iran, denies any role in the assassination.
"WE ARE THE MODERATES"
Hariri heaped criticism on Hezbollah, saying it had embroiled Lebanon in "foreign wars" and split the nation. But addressing the hawks among his supporters, he said his father would not have wanted tit-for-tat killings.
"We are the moderates," he said.
Backed by Saudi Arabia, Hariri is still considered the country's most influential Sunni politician. His remarks follow Saudi Arabia's February 3 decree threatening to jail any citizen who fights abroad.
Hariri left Lebanon shortly after the government he led was toppled in 2011 when Hezbollah and its allies withdrew their ministers.
"It is one of the most important speeches he has given since the eruption of the Syrian war," said Nabil Boumonsef, a columnist at the newspaper an-Nahar, describing his call for moderation as "very important" for the domestic audience.
The war in Syria has contributed to the political impasse that has left Lebanon without a government for 10 months.
The latest attempt by Prime Minister-designate Tammam Salam to form a government was delayed on Friday due to differences between Hezbollah and Hariri over his nomination for interior minister, a senior political source said.
Reuters