Jamil el- Sayyed nomanated as Marshall Islands UNESCO envoy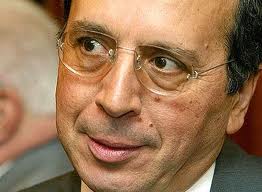 The Marshall Islands which are located in the northern Pacific Ocean have nominated former Lebanese General Security chief Maj. Gen. Jamil el-Sayyed as their envoy to UNESCO, the U.N. agency said Monday.
The move could help Sayyed get immunity from prosecution by the U.N.-backed Special Tribunal for Lebanon ( STL) .
Sayyed was detained in 2005 along with 3 other Lebanese officers for several years in connection with the assassination of former Lebanese PM Rafik Hariri . He was released four years later in 2009 for lack of sufficient evidence on condition he could be detained again once enough evidence becomes available
"I can confirm that the government of the Marshall Islands sent us a letter indicating that this person would represent it," Sue Williams, a spokeswoman for UNESCO, the U.N.'s Paris-based cultural agency, told AFP
French newspaper Le Figaro also reported on Monday Sayyed's nomination, saying: "Thanks to the diplomatic immunity that would be available to him, the former spymaster would avoid possible prosecution by The Special Tribunal for Lebanon (STL)."
Since UNESCO is based in France, Sayyed would need to French visa to take up his post. A foreign ministry spokesman could not say how Paris would respond to such a visa request, specially since France is a major supporter of STL.
The trial by STL of four Hezbollah members accused of assassinating Hariri opened near The Hague last month, nine years after the huge Beirut blast provoked a political crisis that led to the withdrawal of Syrian troops after a 29-year of military presence
Politically The Marshall Islands ( Population 68,480) is a presidential republic in free association with the United States, with the US providing defense, funding grants, and access to social services. Having few natural resources, the islands' wealth is based on a service economy, as well as some fishing and agriculture, with a large percentage of the islands' gross domestic product coming from United States aid.
It is not clear whether the US will have any say on Sayyed's nomination, specially since he is well known to be anti-American and very closely associated with the Iranian backed Hezbollah militant group and the Syrian regime.