Syria's Homs: Mortar Fire Delays Crucial UN Aid Mission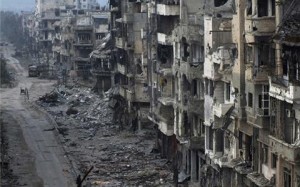 United Nations-led efforts to deliver humanitarian aid to a rebel-held, besieged district of central Homs were delayed on Saturday by bombardment which Syria's warring foes each blamed on the other side.
The mortar fire on appeared to target an area in Homs near a point where United Nations and Syrian Arab Red Crescent vehicles were preparing to enter the besieged area which has been devastated by Syria's nearly three-year conflict.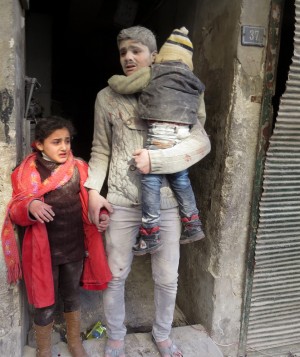 Al Mayadeen television, in a live broadcast from the site at 3 pm (1300 GMT), showed the convoy still waiting to move. The regional Arab station said officials hoped the aid operation could start within an hour.
Activists in Homs blamed President Bashar al-Assad's forces for firing the mortars, in violation of a three-day ceasefire which started on Friday to allow the aid effort to proceed.
State news agency SANA quoted Homs governor Talal al-Barazi as saying "armed terrorist groups" were behind the attack. Syrian authorities describe all armed opposition against Assad as terrorism.
On Friday 83 civilians were evacuated from central Homs. Aid workers said some of them showed signs of malnutrition after living under siege for a year and a half in one of the strongholds of the 2011 uprising against Assad, which became an armed insurgency after his forces cracked down on protests.
The convoy on standby in Homs would be the first shipment of U.N. food and medical supplies to the district since mid-2012.
Reuters