Lebanese raised enough funds to restore Tripoli Library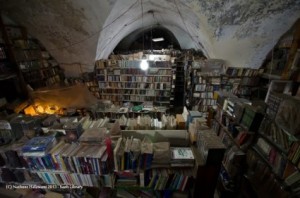 Donations for the restoration of Tripoli's landmark Saeh Library, which was torched early in January, exceeded the $35,000 required to rebuild it, according to a report by NOW.
"I was informed today (Saturday) that the donations exceeded of $35,000 which is the amount required to restore the library," priest Ibrahim Srouj, the library owner, was quoted as saying by NOW on Saturday.
Sarah Bitar, a volunteer in the "Kafana Samtan" (Enough Silence) Movement, which contributed to the campaign to save the library, told NOW that the donations were first collected in cash and then a website was created for this purpose.
"Later, a website was created especially for this purpose, and it is available for everybody. The target amount of money was set as thiry-five thousand dollars and we were able to reach our goal and more," she noted.
Bitar was also quoted by NOW as saying that "it is difficult to determine a specific date for the library to return to its normal state, as it used to be, because there are some difficulties, especially on the security level."
"Last week, for instance, the books were supposed to be unpacked, but security instability in the markets of Tripoli prevented the volunteers from reaching the city." She said
The library, which was set on fire on January 3, 2014, is located in the historic heart of Tripoli, Lebanon's second city and scene of frequent Syria-related violence, pitting Sunnis against members of the minority Alawite community, to which Syria's President Bashar al-Assad belongs.
Hundreds of Lebanese took to the streets of the northern Lebanese capital Tripoli in January to protest the torching of the decades-old library owned by a Greek Orthodox priest Srouj.
The demonstrators held up banners that read "Tripoli, peaceful town" and "This is contrary to the values of the Prophet," in reference to the Muslim Prophet Mohammed.
March 14 condemned the burning of the library
Future Movement bloc MP Mohammad Kabbara said last January:.
"The torching of the library is [akin to] targeting the cultural image of the city, " and stressed the importance of coexistence in Tripoli