Choueifat suicide bomber wanted the van to take him to Ouzai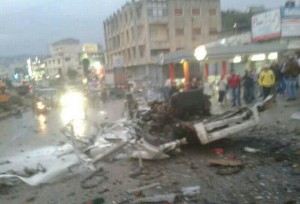 Al-Jadeed ( New TV) reported on the investigation of the Choueifat suicide bombing that took place last Monday in which the suicide bomber was the only one to die but 2 people were injured including the van driver Hussein Dib Msheik .
According to the report the suicide bomber asked Msheik to take him to the Ouzai gas firm which is located in Hezbollah stronghold south of the capital Beirut but he refused and told him he'd drop him off in Choueifat and when Msheik sensed a suspicious behavior he told him that he'd hand him over to an army checkpoint.
An Islamist terrorist group suspected of links to al-Qaida declared Monday responsibility for the Choueifat suicide bombing .
Al-Nusra Front in Lebanon which is suspected of ties to the Syrian based Jabhat al Nusra, an Al Qaeda linked terrorist group claimed around midnight Monday responsibility for the bombing and said the attack targeted a Hezbollah checkpoint.
Monday's terror attack was the latest in a series of suicide bombings that have targeted Shiite-populated areas of Lebanon.