Netanyahu dismisses boycott attempts as immoral, unjust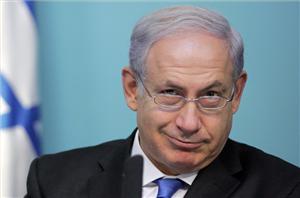 Israeli Prime Minister Benjamin Netanyahu on Sunday dismissed warnings by U.S. Secretary of State John Kerry that Israel could be targeted by a growing boycott campaign if peace talks with the Palestinians fail.
Netanyahu tried to reassure Israelis, saying any boycott attempts are immoral, unjust and "will not achieve their goal," while two government ministers accused Kerry of unfair pressure tactics and not standing by Israel.
Kerry's comments and the aggrieved Israeli response led the main TV news shows Sunday, signaling a growing concern here that the world will use economic pressure to extract concessions.
A Palestinian-led campaign of boycott, divestment and sanctions, launched in 2005, was long considered by Israel as a minor nuisance. However, recent warnings by Europe and by Israel's own finance minister about potential damage from a widening boycott have raised the level of concern.
At the same time, a small but growing number of European businesses and pension funds cut ties with Israeli firms linked to settlements in the West Bank and east Jerusalem, war-won lands the Palestinians want for a state. Over the weekend, Denmark's largest bank, Danske Bank, blacklisted Israel's Bank Hapoalim because of links to settlement activity.
Kerry is expected to present a framework for a peace deal in coming weeks. Anticipating resistance from Netanyahu and Palestinian President Mahmoud Abbas, he has spelled out the risks if they say no to his plan.
Israel won't be able to preserve its future as a democratic, majority-Jewish state and will endanger its prosperity, while the Palestinians will inadvertently embolden hardliners, Kerry warned last month in an apparent attempt to appeal directly to public opinion on both sides.
On Saturday, at a security conference in Germany, he sent a tougher message to the Israelis.
"You see for Israel there's an increasing de-legitimization campaign that has been building up. People are very sensitive to it. There are talk of boycotts and other kinds of things," Kerry said. "Today's status quo absolutely, to a certainty, I promise you 100 percent, cannot be maintained. It's not sustainable. It's illusionary."
Israeli public opinion toward a peace deal has changed in paradoxical ways over the years, with polls suggesting more Israelis now support the establishment of a Palestinian state, but are also increasingly suspicious of Palestinian intentions and skeptical that an agreement can be struck and implemented. With the economy robust and the security situation stable, the government hasn't faced widespread public pressure to compromise.
This could change, said analyst Nadav Eyal.
"Israel has performed an economic miracle in the past 30 years," Eyal wrote Sunday in the Maariv daily. "In a reality of globalization, however, this miracle is completely linked to the reciprocal relations between Israel and the Western world. But success, any success, has a permanent weakness: what's given can also be taken back."
"The hammer John Kerry is swinging may sound weak at first, but its pounding will only get louder," he added.
The fallout from Kerry's latest comments led the main TV news broadcasts Sunday evening. "Advice from a worried friend or a veiled threat?" asked the anchor on Channel Two.
For hard-liners in Netanyahu's center-right coalition, the answer was clear.
Intelligence Minister Yuval Steinitz of Netanyahu's Likud party said Israel can't be expected "to conduct negotiations with a gun pointed to its head," calling Kerry's comments offensive.
Economics Minister Naftali Bennett, from the religious, pro-settler Jewish Home party, suggested Kerry was siding with Israel's foes. "We expect our friends around the world to stand beside us, against anti-Semitic boycott efforts targeting Israel, and not for them to be their amplifier," said Bennett, a fierce critic of the Kerry-led talks.
However, Avishai Braverman, a senior Israeli economist and member of the opposition Labor Party, said Israeli leaders should take Kerry's warnings to heart.
"If Israel doesn't move forward in the peace process, it would be very severe for the long-term economic future of the country," said Braverman, a former World Bank economist.
The State Department said Kerry was describing actions taken by others that he always opposed.
But tensions between the U.S. and Israel, traditionally close allies, have mounted ahead of Kerry's anticipated framework proposal which is to buy time for extending the talks beyond an end-of-April target date for a deal.
Kerry is to present the proposals in coming weeks and has hinted at some of his ideas — likely tough to swallow for both Netanyahu and Abbas — in recent speeches.
Israel's 1967 frontier, before it captured the West Bank, Gaza and east Jerusalem, would likely be a reference point for drawing the border of a future Palestine, though land swaps would allow Israel to keep some of the dozens of settlements it has built on occupied lands. The Palestinians, in turn, would have to recognize Israel as the homeland of the Jewish people.
Netanyahu has rejected the 1967 lines as a starting point in the past, while Abbas has said he won't recognize Israel as a Jewish state. It's not clear how they will respond when Kerry presents his plan. U.S. officials have said the two sides could express reservations, but not to an extent that would make the framework devoid of meaning.
Israel will likely suffer harsher international repercussions than the Palestinians if the talks collapse, said Israeli analyst Yossi Alpher. "The Palestinians are the underdog, they can get away with a lot more by refusing Kerry than we can get away with," he said. "Politically, it will isolate Israel."
Chron/ AP