Asaad blames Hezbollah role in Syria for Hermel bombing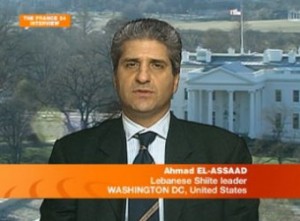 The leader of the Lebanese Option Party Ahmad al-Asaad blamed Hezbollah 's involvement in Syrian civil war for the deadly car bombing that rocked the north eastern Beqaa town of Hermel near the Syrian border leaving four people dead and at least 28 injured in the second such explosion in two weeks to hit this Hezbollah stronghold.
"This is another example of innocent Shiite people killed as a result of Hezbollah's involvement in the Syrian civil war", he wrote in a twitter message on Saturday following the Hermel explosion.
The Shiite leader condemned the terrorist act and offered his condolences to al the relatives of the victims .
In another development MTV reported that the Syrian authorities closed 2 border crossings between both countries in Abboudieh and al-Arida.