UN chief meets Castro , criticized Cuba's human rights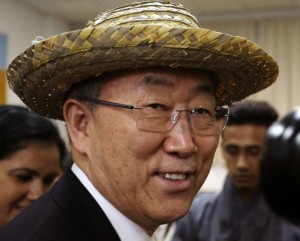 U.N. Secretary-General Ban Ki-moon on Tuesday met Fidel Castro in Havana for a conversation that ranged from climate change to the civil war in Syria, and said he criticized Cuba's human rights problems.
Mr. Ban, who is in Cuba for a summit of the Community of Latin American and Caribbean States, met with the former Cuban leader for 55 minutes, the U.N. chief's office said.
Their talk touched on the troubles in Syria, the Central African Republic, South Sudan and the Democratic Republic of the Congo, the statement said. They discussed food security, climate change and nuclear proliferation.
Mr. Ban later told reporters that he also criticised the Communist-run nation on human rights.
"I emphasized the importance of playing a greater role in enhancing human rights, and providing spaces for people's right to peaceful assembly and freedom of association, and the cases of arbitrary detention occurring in Cuba," Mr. Ban said in Havana.
"I sincerely hope that the Cuban government will continue working with the international community to enhance further the human rights," he added.
In New York, U.N. spokesman Farhan Haq said Ban raised the issue of human rights during meetings with a number of Cuban officials, including President Raul Castro, who is Fidel Castro's younger brother. Ban also discussed the U.S. embargo on Cuba with Raul Castro.
In a tweet, Washington's U.N. ambassador, Samantha Power, urged world leaders visiting Cuba to meet with "everyday Cubans" and independent groups "to learn what's really happening & support democratic change."
Mr. Ban lavished praise on many of Cuba's initiatives during his first visit to the island.
During a visit to the Latin American School of Medicine, Mr. Ban called Cuba's health care system "a model for many countries around the world." He praised Cuba for sending doctors to trouble spots around the world, saying Cuban doctors have been instrumental in bringing down the number of cholera cases in Haiti and have helped improve eyesight for "millions of people in dozens of countries."
The Hindu