Bassil refuses to let go of his Energy minister position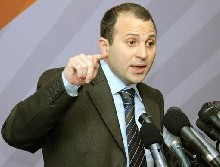 Caretaker Energy Minister Gebran Bassil refuses to let go of his current caretaker position in the cabinet and criticized the suggested form of cabinet rotation, and said that to deny him the oil portfolio would be unfair since he represents the Christians in this position .
"Lebanon's oil is being targeted and we refused to let the oil portfolio be taken , because we are worried about its future ." Bassil said in a statement Sunday.
He went on to say that the oil portfolio is important to Lebanon's future and to Christians in Lebanon, of which his bloc, the Free Patriotic Movement, is the largest representative stressing that "oil gives new guarantee for the Christians ."
"The principle of not dedicating a ministerial portfolio to a person or a team is sound, however, applying rotation in the form currently proposed would prevent the proper functioning of institutions and damage the people's interests." He said
"Is it permissible to deny the largest Christian bloc a sovereign portfolio?" He asked
Lebanon's PM Designate Tammam Salam has been attempting to form a new government that would bring together the rival March 14 and March 8 alliances for nearly 10 months .
Former PM and Future Movement leader MP Saad Hariri, whose party has the largest parliamentary bloc in the cabinet and who is considered a pillar in the pro-Western March 14 coalition, stated earlier in the week that he is putting aside his personal differences with Hezbollah in an effort to form a national-partnership cabinet that can safeguard the country.
FPM leader MP Michel Aoun has rejected the proposed rotation of the ministerial portfolios and his son-in-law Bassil has voiced his desire to maintain control over the Energy and Telecom Ministries.