UAE president is in stable condition after stroke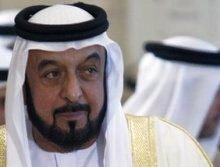 The state news agency of the United Arab Emirates says the country's president has suffered a stroke and undergone surgery.
The official WAM news agency reported Saturday that Sheik Khalifa bin Zayed Al Nahyan is now "stable," citing a statement from the Ministry of Presidential Affairs.
WAM said that the president suffered the stroke Friday. It did not elaborate, other than to say: "May God safeguard him and grant him a quick recovery."
Khalifa became president of the UAE in 2004, succeeding his father Sheik Zayed Bin Sultan Al Nahyan after his death. His father was the UAE's first leader after independence in 1971.
Khalifa has used the emirates wealth to make it a regional economic powerhouse. The world's tallest building, the Burj Khalifa in Dubai, bears his name.
Associated Press