Hariri- Lebanon Sunnis 'refuse' to join Hezbollah-Qaeda war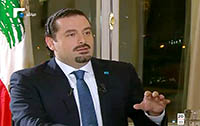 Former LebanesePM and Future Movement leader Saad Hariri said Saturday the country's Sunni Muslims "refuse" to be a part of any conflict between Al-Qaeda and Shiite movement Hezbollah, denouncing sectarian attacks on civilians anywhere in Lebanon.
Hariri's statement came a day after a jihadist group warned all areas where Hezbollah operates are "legitimate targets" for attack, telling Sunnis to avoid them.
"The Lebanese, and the Sunnis among them, refuse to be part of any war in Lebanon or the region between Hezbollah and Al-Qaeda," said Hariri, who heads the anti-Syrian Future bloc.
"They also refuse that the civilians in any region of Lebanon become the targets," he added.
A day after Al-Nusra Front the Islamist terrorist group suspected of links to al-Qaida declared that all the areas in Lebanon where the Iranian backed Shiite Hezbollah militant group operates are "legitimate targets" it claimed responsibility for the rocket strike on the Beqaa town of Hermel, adding that it would continue to target Hezbollah until their demands are met.
The extremist group vowed to continue their operations against Hezbollah strongholds until they reach two goals.
Al-Nusra Front in Lebanon claimed responsibility for the Tuesday bombing in Dahiyeh's Haret al-Harayk that left four people dead as well as the deadly suicide car bomb attack in the northern Beqaa's Hermel last week.
The war in Syria has inflamed sectarian tensions in Lebanon, with Hezbollah backing Assad's regime despite the Baabda declaration.
The Baabda Declaration is an agreement that was reached between Lebanon's opposing political leaders in 2012 which calls for distancing Lebanon from regional and international conflicts.