U.S. , Iran Offer Clashing Accounts of Syria Civil War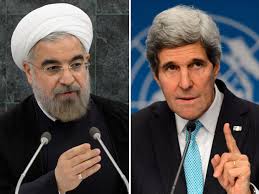 Secretary of State John Kerry and President Hassan Rouhani of Iran offered clashing accounts on Thursday of the civil war in Syria, and the role that Tehran is playing in the conflict.
The contrasting assessments illustrated the chasm that still separates the United States and Iran
on Middle East issues even as they have agreed on a temporary accord to freeze much of Iran's nuclear program.
In an interview here with the news agency Al Arabiya, Mr. Kerry said that it was time for Iran to match its words about the need for a peaceful solution to the war in Syria with deeds. If Iran wants to play a stabilizing role in Syria, Mr. Kerry suggested, it should stop sending paramilitary forces there and rein in its proxies who are fighting with President Bashar al-Assad's forces against the rebels.
"Iran has I.R.G.C. personnel on the ground in Syria conducting military affairs," Mr. Kerry said, using the abbreviation for Iran's Islamic Revolutionary Guards Corps. Mr. Kerry also said that Iran was the main supporter of Hezbollah, the Lebanese militia, which he asserted was "the principal difference in the fighting that has taken place on the ground in Syria."
But the Iranian president offered an assessment that differed so radically it was difficult to imagine that he was talking about the same country. Echoing arguments used by Mr. Assad, Mr. Rouhani suggested that terrorism, not power-sharing with the opposition, was the main issue.
"All of us should work to push terrorists out of Syria," Mr. Rouhani said in an address to the World Economic Forum in this Alpine village. Though he described the insurgents who had taken up arms against the Syrian president as "ruthless killers," Mr. Rouhani made no mention of the arms or personnel Iran had sent to Syria or of Hezbollah's role.
The dueling accounts pointed to the deeper, compartmentalized nature of American-Iranian relations. Though Mr. Kerry has had extensive negotiations with Iran's foreign minister, Mohammad Javad Zarif, the Obama administration's discussions with the Iranians, including its back-channel talks, have focused almost entirely on the nuclear issue.
There was no indication that the tentative efforts to find common ground on the nuclear question had laid the basis for a broader accommodation on regional disputes. If anything, the interim agreement on Iran's nuclear program called to mind the sort of arms control accords the White House reached with the Kremlin during the chillier days of the Cold War, in which Moscow and Washington sought to limit their nuclear arms even as they waged proxy wars and competed for influence in the third world.
The contrasting American and Iranian assessments came a day after the peace talks on Syria opened in Montreux with a defiant speech from a Syrian government official. Mr. Kerry acknowledged in his interview on Thursday that there were no indications that Mr. Assad was prepared to vacate his post. "He's not ready at this point in time," Mr. Kerry said.
Mr. Kerry also did not present a clear blueprint for how he hoped to persuade Mr. Assad to change his mind, beyond mobilizing international pressures.
Yet it was Mr. Rouhani who was on the diplomatic offensive. Describing himself as an advocate of "prudent moderation," Mr. Rouhani said he sought "constructive engagement" with Iran's neighbors and pledged that his country had no intention of acquiring nuclear weapons, speaking to a packed auditorium that included some Israeli participants and Catherine Ashton, the European Union's foreign policy chief.
John Chipman, chief executive of the London-based International Institute for Strategic Studies, said Mr. Rouhani's speech was in essence "an application to rejoin the international community."
"His buzz-terms were 'prudent moderation' and 'constructive engagement,' " said Mr. Chipman, who was in the audience. "He is saying: Trust me as a leader."
Yet Israeli leaders attending Davos took exception to Mr. Rouhani's comments, saying they represented a missed opportunity and were intended to mislead world opinion. "Rouhani is continuing with the Iranian show of deception," Prime Minister Benjamin Netanyahu said in remarks relayed by his office in Jerusalem.
Mr. Rouhani's conciliatory tone certainly did not represent a convergence with the United States on Syria, the most urgent Middle East crisis.
Mr. Kerry suggested that Iran might yet play a role in the Syria peace talks if it publicly embraced the mandate for Swiss peace talks, which calls for the establishment of a transitional administration that could run the country if Mr. Assad agreed to yield power.
But Mr. Rouhani appeared to show no interest in that possibility. Instead, he again echoed the Assad government's arguments calling for "free and fair elections" and stating that "no outside power" should seek to determine Syria's future.
NY Times