Turkish government accused of trying to sabotage poll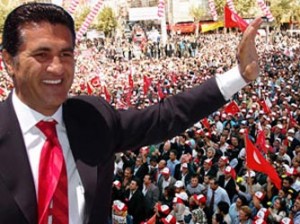 The Turkish opposition candidate for Istanbul mayor has accused Recep Tayyip Erdogan's government of trying to sabotage his election campaign after state authorities froze his assets over an allegedly unpaid loan.
Mustafa Sarigul's comments, in an interview with the newspaper Haberturk published on Sunday, came as a political corruption scandal took a new twist, with weekend clashes breaking out in Istanbul between police and hundreds of demonstrators.
The protesters oppose a proposed internet law widely seen as part of government moves to contain the fallout from the corruption crisis.
Mr Sarigul, the Republican People's party (CHP) candidate for mayor, denied he owed any money and suggested that the ruling Justice and Development party (AKP) was trying to incriminate him before key local elections in late March. These could prove critical for Mr Erdogan, the prime minister, ahead of the presidential poll due in August and parliamentary elections planned for next year.
"I never took out such a loan," said Mr Sarigul, referring to a £2.13m debt from 1998 that Turkey's Savings Deposit Insurance Fund (TMSF) cited as the reason for freezing his assets on Friday.
"The AKP . . . looked, they scanned and they couldn't find anything," he said. "Finally they found this. If there ever was such a debt, why did they wait for 16 years?"
During a campaign rally in Istanbul at the weekend, Mr Sarigul struck an equally defiant note. "This struggle is only just starting," he said. "You can't stop me, you can't scare me and you can't make me turn back."
The TMSF insisted in a statement at the weekend that its decision was not politically motivated.
"Our activities are conducted according to the rule of law, based entirely on records and documents under the applicable legislation, and independent of subjective criteria, the character, or social status of the persons involved," it said.
The loan, the statement noted, had been taken out by Mr Sarigul and nine business partners.
The TMSF decision came after a purge of state institutions involving sympathisers of the movement of Fethullah Gulen, a preacher and former ally of the government with many followers among Turkey's police and prosecutors.
High-ranking officials from the national bank regulator, 12 managers at the state broadcaster TRT and five department heads at the national telecommunications directorate were removed from their posts on Friday.
The government has blamed the Gulenists, along with a number of unspecified "foreign powers", for a wave of high-level graft probes involving cabinet ministers and figures close to the AKP, including Mr Erdogan's son Bilal, that have rattled the ruling party, the Turkish lira and the stock market since mid-December. It has responded by removing the prosecutors in charge of the investigations, as well as about 2,000 police officers.
While many Turkish observers believe that the movement does have a hand in the probes, there is growing concern that the government is using the Gulenist issue to deflect credible allegations of high-level corruption.
The EU, the Council of Europe and a number of professional bodies in Turkey have all expressed concern over a proposed law increasing government control over the top judicial body, the Supreme Board of Judges and Prosecutors (HSYK).
"Curtailing the independence of the judiciary would be a threat to it and would weaken public trust not only in the judiciary but in the state as a whole," Nils Muiznieks, the Council of Europe commissioner for human rights, said last week.
Ahead of a visit by Mr Erdogan to Brussels this week, Ahmet Davutoglu, Turkey's foreign minister, said he was willing to look at EU concerns. "We are ready to discuss everything, including the HSYK," he said.
In the Istanbul mayoral race, an opinion poll last month showed Mr Sarigul trailing Kadir Topbas, the incumbent and AKP candidate, by a significant margin. Since the Gulenists' latest dispute with Mr Erdogan, however, rumours have swirled that the movement's leader will call on his many followers to vote for Mr Sarigul.
On Saturday night, meanwhile, police fired tear gas, water cannon and rubber bullets in the centre of Istanbul to disperse hundreds of people protesting against a proposed law that would grant authorities the right to shut down websites deemed to violate personal privacy and require service providers to retain web users' browsing data for up to two years.
In a statement, the Paris-based media rights group Reporters Without Borders called on the Turkish parliament to reject the bill, which it called a "draconian" attempt to place further curbs on internet freedoms.
"[The] government should realise that its salvation does not lie in more censorship," it said.
Financial Times