Israel PM slams suspension of UNESCO exhibit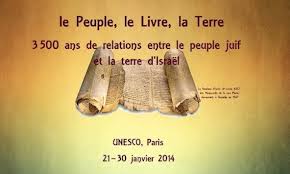 Israel's premier on Sunday condemned a decision by the UN cultural agency to postpone an exhibit tracing 3,500 years of ties between the Jewish people and Israel, following pressure from Arab countries.
UNESCO had said on Friday it was postponing the exhibit after receiving a letter from the 22-member Arab Group which expressed concern it "could impact negatively on the peace process and current negotiations under way in the Middle East."
But Prime Minister Benjamin Netanyahu denied the exhibit would damage talks with the Palestinians, which began in July but have shown little sign of progress.
"It would not harm the negotiations. Negotiations are based on facts, on the truth, which is never harmful," Netanyahu told ministers at the beginning of the weekly cabinet meeting.
Netanyahu countered that what had harmed the talks were European moves to summon Israeli ambassadors over recent settlement announcements, referring to the construction tenders as "matters of no substance," while ignoring "significant violations" by the Palestinians.
On Thursday, Israeli ambassadors in London, Rome, Paris and Madrid were called in for explanations in a move Netanyahu slammed as "hypocritical."
"The one-sided approach toward Israel does not advance peace — it pushes peace further away," he said.
The exhibition, "The 3,500 Year Relationship of the Jewish People to the Holy Land," was due to open Tuesday at UNESCO's headquarters in Paris.
Israel's relations with UNESCO have been at a major low since October 2011 when the Palestinians were admitted to the organisation as a full member.
In response, Israel and Washington cut funding to UNESCO, sparking a major financial crisis at the agency and putting hundreds of jobs at risk.
US refuses to sponsor exhibit

The State Department had refused to co-sponsor a UNESCO exhibit, detailing the Jewish people's 3,000-year relationship to the land of Israel, which UNESCO cancelled this week under pressure from Arab countries according to Times of Israel website
The exhibit – created by the Simon Wiesenthal Center, co-organized with UNESCO, and co-sponsored by Israel, Canada, and Montenegro – was to have opened in Paris on Tuesday.
The Arab states said the exhibit would undermine the peace process, and UNESCO agreed with them. "We have a responsibility in ensuring that current efforts in this regard are not endangered," UNESCO's director general, Irina Bokova, wrote in a letter to the Wiesenthal Center.