Geagea: M14 united on Lebanon cabinet issue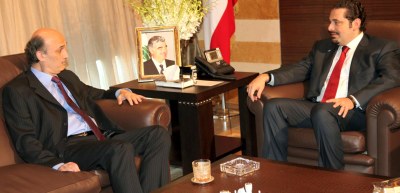 Lebanese Forces leader Samir Geagea Geagea commented on Future Movement leader Saad Hariri's willingness to participate in a government alongside Hezbollah, and stressed that this move does not reflect a division within the March 14 coalition.
" Hariri's comments show good intentions, but do not at all mean that there is a division inside March 14."
"There are no divergent stances or decisions within the alliance," Geagea stressing that March 14 is united on the cabinet issue
On the other hand he said that his party will not take part in a new cabinet if it upholds the status of Hezbollah's arms, and if its ministerial statement does not underline Lebanon's neutrality in regional conflicts, notably the Syrian war.
"There is no point in participating in the upcoming cabinet without a minimum of political change…The Baabda Declaration should be the core of the ministerial statement adding that statement should not include the unity of the army, people and Resistance formula (as suggested by Hezbollah ) ," Geagea said Saturday.
Geagea's comments were made following his meeting with Emmanuel Bonne, advisor to the French President for North Africa, the Middle East and the United Nations, at his Maarab residence.
The formation of a new Lebanese cabinet gained momentum following the announcement of former Lebanese Prime Minister Saad al-Hariri in which he declared that he is now ready to share power with his rivals Hezbollah if that's what it takes to help Lebanon finally form a government after nine months of political deadlock.
Linking up with the Shiite Hezbollah militant group presents a personal challenge for the son of former premier Rafik al-Hariri, whose 2005 car bomb assassination was widely blamed on Hezbollah, which denies the allegation.
Hariri told Reuters in The Hague , where he is attending the trial in absentia of four Hezbollah members charged with his father's killing, that he's not only ready to share power with Hezbollah but is optimistic they can come to an agreement.
"We're trying to run the country with everyone, because we do not want to keep anyone outside," he said in an interview late on Thursday after attending the opening session of the Special Tribunal For Lebanon.
"Lebanon is having a difficult time, especially since the international community has failed miserably to do anything for Syria," he said. "I think it is our duty towards the people of Lebanon to stabilize the country … I am very optimistic."
Asked why he was willing to work with a group accused of playing a role in his father's killing, he said he was committed to the principle of "innocent until proven guilty".
March 14 coalition has until now refused to join a government with Hezbollah as long as the party continues its Syria role which contradicts with the Baabda Declaration