9 Lebanese killed in rocket attack from Syria, update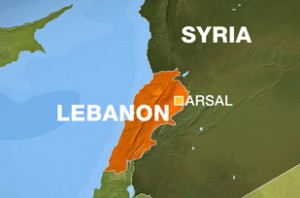 Rocket fire into the Lebanese border town of Arsal killed at least seven people and wounded 15 on Friday, Lebanon's state news agency NNA said, in one of several such salvoes to hit towns bordering war-torn Syria.
At least 20 rockets launched from across the border struck Lebanese frontier areas, according to the Lebanese army, in further spillover from Syria's civil war that has raised tensions across Lebanon.
Five children aged between two and eleven years old were amongst those killed in the attack the NNA added.
Lebanon, itself shattered by civil war from 1975 to 1990, has been struggling to keep itself out of the nearly three-year conflict raging in its much larger neighbour, with more than 100,000 people killed there.
But with sectarian sympathies aligning different Lebanese groups with Syria's warring parties, spillover has become increasingly frequent. Lebanon is now coping with increased car bombings, some of them hitting the heart of the capital Beirut.
The National News Agency said a single rocket was responsible for the death toll in Arsal, an area sympathetic to the mostly Sunni Muslim rebels fighting to topple Syrian President Bashar al-Assad.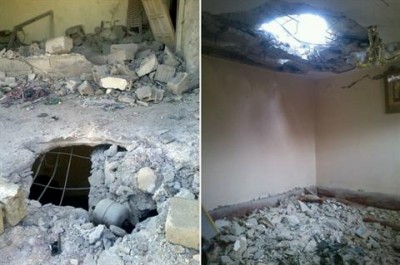 A Lebanese national security source said there were eight casualties from two rockets in Arsal, but could not confirm how many were dead or wounded. Security sources inside the town said seven rockets crashed around Arsal, with a field clinic and a Syrian refugee camp both hit.
The security source said that a Syrian fighter jet was targeting a town on the Syrian side of the frontier, but was not the source of the rocket fire.
Rockets also crashed into areas around the northern Lebanese border town of Hermel. One hit inside Hermel but caused no major damage, while two more rockets fell in neighbouring villages, without reported casualties.
Hermel is supportive of Lebanon's powerful Shi'ite Muslim militant movement Hezbollah, which has been fighting in Syria on the side of Assad, himself from the minority Alawite sect, an offshoot of Shi'ite Islam.
A day earlier, Hermel, which is regularly the target of rocket and mortar attacks from Syrian rebels, suffered its first car bomb attack.
The attack, which killed four people including a suicide bomber inside the car, was claimed by the Lebanese branch of the Nusra Front, the Syrian rebel group affiliated with al Qaeda. It has not been possible to verify the claim.
Attack condemned
Lebanon's caretaker Prime Minister Najib Miqati also condemned the rocket attack that hit several towns in the Beqaa on Friday.
"I denounce the Syrian shelling that targeted Arsal and other Lebanese towns and villages," Miqati said in a statement.
He also called on the Lebanese Armed Forces to "take necessary measures to protect Lebanese territory and prevent any transgressions."
President Michel Suleiman warned citizens not to get involved in events connected to the Syrian crisis, and asked members of the Lebanese Armed Forces to do all they can to protect Lebanon's border regions.
"[People should beware] of the stupidity of embroilment in the Syrian crisis," Suleiman said in an official statement on Friday.
update: Future TV reported that the death toll rose to 9 including 7 children
Reuters/NNA