Car bomb kills 5 in Hezbollah stronghold near Syria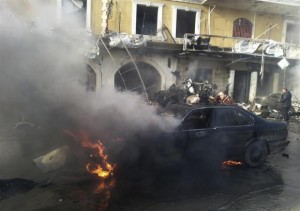 A suicide car bomber killed five people in a Hezbollah stronghold on Lebanon's northern border with Syria on Thursday, the latest sign of the Syrian civil war's creeping impact on its small Mediterranean neighbor.
The blast came as a court at The Hague began hearings on the 2005 killing of Lebanese statesman Rafik al-Hariri. The trial in absentia of four Hezbollah members, once billed as demonstrating a new start for Lebanon under the rule of law, has been overshadowed by violence spilling over from Syria.
The car bomb went off near a local government building in the centre of Hermel, at the northern end of the Bekaa Valley, an area populated mainly by Shi'ite Muslims from whom Hezbollah draws its support. The explosion shattered windows and damaged nearby buildings, witnesses said.
A Reuters photographer saw body parts strewn across the street and people with shrapnel wounds in the area of the blast. Hospitals were calling on people to give blood.
There was no immediate claim of responsibility but it fit a pattern of attacks by rival sectarian groups on each other's strongholds that has been amplified by Syria's civil war.
Hezbollah, Lebanon's most powerful military and political movement, has sent fighters and advisers to aid President Bashar al-Assad, a member of Syria's Alawite minority, in his battle with mainly Sunni rebels. Both Hezbollah and Assad are supported by the Shi'ite religious rulers of Iran.
Lebanon's National News Agency said five people were killed in the blast, including the bomber, and a further 26 were wounded. A security source confirmed the death toll.
President Michel Suleiman denounced the terrorist explosion.
"The terrorist explosion that targeted the town of Hermel today is a new episode of criminality," Suleiman said Thursday and called for forming an all-encompassing cabinet "to face these terrorist groups."
Prime Minister-designate Tammam Salam and caretaker Prime Minister Najib Mikati, both Sunnis as required under Lebanon's confessional political system also condemned the bombing.
"Once again the hand of terrorism has extended into a dear area of Lebanon to claim the lives of innocent citizens," the national news agency quoted Salam as saying.
Salam, who has been trying to form a government since Mikati resigned in March, called for an "improvement in the political climate" so Lebanon could "close the road to those who benefit from the weakness of the domestic situation".
SYRIA OVERSHADOWS TRIAL
Lebanon is still very much subject to the conflicts between political factions backed by rival domestic, regional and global powers that fuelled a 15-year civil war up to 1990 and provided the backdrop to the car bombing that killed Hariri, a Sunni businessman and former prime minister.
Officials affiliated with Hezbollah on one side and the Future movement led by Hariri's son Saad on the other have failed to agree on a government since Mikati resigned.
Political assassinations go on. Last month, the Future movement's Mohamed Chatah, another Sunni ex-minister, was killed by a car bomb in downtown Beirut not far from the site of Hariri's death.
Hezbollah-run areas have been hit by bomb and rocket attacks claimed by Sunni militants. Four car bombs have exploded in Hezbollah's stronghold of south Beirut since July. Two suicide bombings at the Iranian embassy in November killed at least 25 people including an Iranian diplomat.
Different sectarian priorities were apparent in Lebanese media on Thursday. Hezbollah's Al Manar channel focused on the Hermel bombing. Saad Hariri's Future Television broadcast live from the special tribunal at The Hague.
Four Hezbollah members accused of plotting the attack on February 14, 2005 that killed 22 people are being tried, though none has been arrested.
The tribunal was set up under the auspices of the United Nations in the face of opposition from Hezbollah. It denies any role in the assassination of Hariri, who enjoyed support from Sunni-ruled Saudi Arabia, Iran's main regional adversary.
The trial prosecutor, Canadian lawyer Norman Farrell, told the court on Thursday that the Beirut bombing was intended to spread panic throughout Lebanon and employed far more explosive than was need to kill the main target, Hariri.
Establishing the tribunal was one of the most contentious issues in Lebanese politics for years, but it has been much overshadowed now by the spread of violence from Syria
Reuters/NNA
Photo: A man reacts near a burning car at the site of an explosion in the Shi'ite town of Hermel January 16, 2014. REUTERS/Rami Bleibel