Lebanon army arrests Al Qaeda linked commander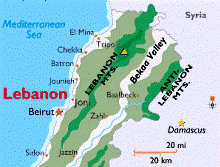 The Lebanese Army Intelligence arrested an Abdullah Azzam Brigades commander during a dawn raid in western Beqaa village that left one man dead according to a report by NOW.
"The Intelligence Directorate at dawn on Wednesday arrested Abdullah Azzam Brigades commander Jamal Dafterdar after a raid in a western Beqaa village," the army said in a statement.
"A gunman attacked the Lebanese Army Intelligence unit with a hand grenade during the operation, prompting the army to shoot and kill him."
The army added that the raid was conducted based on information attained by the investigation into the December 15 attacks against Lebanese army checkpoints in Sidon that left one soldier dead.
Jamal Dafterdar was reportedly born in Tripoli, north Lebanon.
Now also reported that a man suspected of being linked to deceased Abdullah Azzam Brigades chief Majid al-Majid was arrested after being wounded in the firefight.
Majid died in a Beirut military hospital on January 4, after he was arrested by Lebanese army intelligence on December 26.
Lebanese investigators were unable to interrogate Majid, who was in a coma at the time of his arrest and suffering from kidney failure.
The Abdullah Azzam Brigades claimed responsibility for the November bombings outside Iran's embassy in southern Beirut that left over 20 people dead.
The Brigades, which were formed in 2009 and are based in Lebanon as well as the Gulf, is an offshoot of the Al-Qaeda in Iraq group and was designated as a terrorist organization by the US in 2012.
The group claimed responsibility for the July 16, 2013 roadside bomb that targeted a Hezbollah convoy outside Beqaa's Majdel Anjar.
The Abdullah Azzam Brigades also claimed responsibility for a salvo of four rockets fired at Israel from Lebanon on August 22.