Phalange: Impossible for us to take part in such a cabinet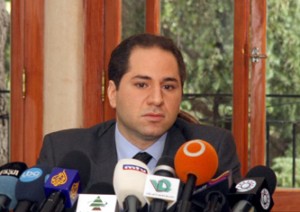 The Phalange Party announced on Monday its refusal to participate in a cabinet that would provide political cover for Hezbollah's arms and its military campaign in Syria iin support of Bashar al-Assad 's regime.
"If the cabinet will cover up for the fighting in Syria and if it protects illegal arms ( in reference to Hezbollah ) then it is impossible for us to take part in it," Phalange party bloc MP Sami Gemayel stressed on Monday following the party's weekly meeting.
He added: "We do not have any problem with the shape of this cabinet but our biggest problem is its agenda and we need clear reassurances."
Intensified efforts to form a cabinet are continuing as March 14 figures said that the alliance was still debating the recently proposed 24-minister cabinet based on 8-8-8 formula championed by Berri and Progressive Socialist Party leader MP Walid Jumblatt that would give eight ministers each to the March 8 and 14 alliances as well as centrists.
The Phalange Party had previously said that it is awaiting the March 14 camp's position on whether it will take part in a new cabinet, but the camp has yet to present its stance to Prime Minister-designate Tammam Salam.
The March 14 alliance had allegedly agreed to the 8-8-8 formula, but it is awaiting answers to inquiries it raised about its ministerial statement, the rotation of power, Hezbollah's fighting in Syria, and a number of other issues.
Amid Lebanon's nine-month deadlock over the formation of a cabinet, President Michel Suleiman threatened on Friday that he would form a cabinet on January 20 if the feuding political parties were unable to reach an agreement on a unity cabinet.
March 14 figures in the past said they were unwilling to join a government with Hezbollah as long as the party's fighters were engaged in battles on behalf of the Bashar al-Assad regime in Syria.