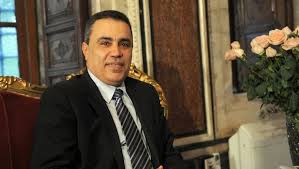 Tunisia's new prime minister took office on Friday. Mehdi Jomaa will lead a caretaker administration until elections later this year. The move was agreed as a compromise between the Islamist government and secular opponents.
"The government will be composed not only of national technocrats – this will be the primary criterion – but also of independents," Jomaa told reporters at a news conference in the presidential palace.
"I have had many consultations, I have listened to all parties, and I now have a vision," he added.
The new premier takes office after the ruling Islamist party's premier agreed to resign on Thursday. It is one of the final steps along the path to full democracy in the country.
Meanwhile, police fired tear gas this week to break up protests over a vehicle tax increase. The reform was dropped, but the new government will have to tackle tough cuts in public subsidies that risk pushing up fuel prices and flaming demonstrations.
About the Jomaa
Mehdi Jomaa 51, an Independent politician is a Tunisian engineer and politician. He was chosen as the acting Prime Minister of Tunisia on 14 December 2013. He served as the Minister of Industry in the Laarayedh government.
Regional Model
Tunisia, as with nearby Egypt and Libya, has been afflicted by political and economic dysfunction, terrorist violence and the polarization of secular and Islamic forces since ousting its dictator. But as the anniversary of its revolution approaches, the country's political leaders have managed something that ought to be a new model for the region: democratic compromise, according to a report by the Washington Post.
Like Egypt's Muslim Brotherhood, Tunisia's Islamist Ennahda party won the first democratic elections after the revolution but quickly lost popularity because of poor governance, including its failure to control extremists. But rather than plunge into the battle to the death now underway between Egypt's military regime and its secular allies and the Brotherhood, Tunisians struck a deal. On Thursday, Ennahda's prime minister stepped down to make way for a technocratic administration that will govern until elections are held this year. Meanwhile, a national assembly has appointed a nonpartisan election commission and is rushing to complete a long-delayed constitution by early next week, the report added
U.S. and European officials pressed Egypt's generals and Islamists to reach such an accord before and after the July coup in Cairo but failed.
Despite strikes and protests Tunisia looks considerably more likely to achieve political stability and return to economic growth than does Egypt, where the conflict between secular and Islamist forces rages on. If Tunisia's constitution is ratified and elections go forward, it will demonstrate that the dream of liberal democracy is not a mirage in the Arab world. On the contrary: Tunisia, which began the uprising against the old order, will establish the paradigm the report said
Euro News/ Washington Post
This error message is only visible to WordPress admins
Error: No connected account.
Please go to the Instagram Feed settings page to connect an account.