Iran agrees to implement nuclear deal starting Jan. 20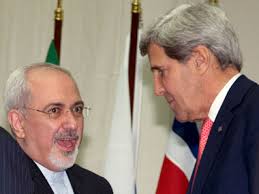 Iran and six world powers have agreed on how to implement a nuclear deal struck in November, with its terms starting from Jan. 20, the White House said Sunday.
"Beginning January 20th, Iran will for the first time start eliminating its stockpile of higher levels of enriched uranium and dismantling some of the infrastructure that makes such enrichment possible," President Obama said in a statement. "Iran has agreed to limit its enrichment capability by not installing or starting up additional centrifuges or using next-generation centrifuges. New and more frequent inspections of Iran's nuclear sites will allow the world to verify that Iran is keeping its commitments. Taken together, these and other steps will advance our goal of preventing Iran from obtaining a nuclear weapon."
Iranian's official state news agency also reported the news, quoting Iranian Deputy Foreign Minister Abbas Araghchi, but did not offer further details.
Under the November agreement, Iran agreed to limit its uranium enrichment to 5 percent – the grade commonly used to power reactors. The deal also commits Iran to stop producing 20 percent enriched uranium – which is only a technical step away from weapons-grade material – and to neutralize its 20 percent stockpile.
In exchange, economic sanctions Iran faces would be eased for a period of six months. During that time, the world powers – Britain, China, France, Germany, Russia and the United States – would continue negotiations with Iran on a permanent deal. Mr. Obama reiterated that the U.S. will continue to pursue a broader sanctions regime and will even increase economic penalties if Iran does not meet its commitments under the deal.
Secretary of State John Kerry said Iran will gain access to $4.2 billion in restricted assets in regular installments through the next six months.
The West fears Iran's nuclear program could allow it to build a nuclear bomb. Iran says its program is for peaceful purposes, such as medical research and power generation. ISNA also reported Sunday that under the terms of the deal, Iran will guarantee that it won't try to attain nuclear arms "under any circumstance."
U.S. lawmakers have expressed doubts about whether the U.S. can trust Iran's promises and many senators – including Mr. Obama's Democratic allies – are moving to implement a fresh round of sanctions. The White House has pushed back on their efforts and Mr. Obama has repeatedly pledged to veto any sanctions legislation that came across his desk.
"Unprecedented sanctions and tough diplomacy helped to bring Iran to the negotiating table, and I'm grateful to our partners in Congress who share our goal of preventing Iran from acquiring a nuclear weapon," the president said Sunday. "Imposing additional sanctions now will only risk derailing our efforts to resolve this issue peacefully, and I will veto any legislation enacting new sanctions during the negotiation."
Kerry echoed Mr. Obama's threat with a plea for cooperation.
"We now have an obligation to give our diplomats and experts every chance to succeed in these difficult negotiations," Kerry said. "Now is not the time for politics. Now is the time for statesmanship, for the good of our country, the region, and the world."
CBS