Friends of Syria : Assad has no role in country's future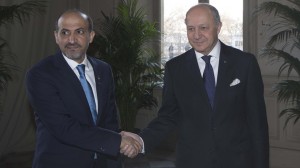 The U.S.-led "Friends of Syria" grouping had agreed that President Bashar al-Assad and his family will have no role in the country's future, Ahmad Jarba, head of Syria's opposition National Coalition, said during a press conference held in Paris on Sunday.
However, Jarba did not announce if the opposition would take part in peace talks with representatives of Assad's regime due to start next week in Switzerland.
The Coalition, which is under intense pressure to confirm its participation, has said it will decide on the issue on January 17.
The international meeting, which will bring President Bashar al-Assad's government and opposition groups to the table, is set to be held from Jan. 22 in Geneva.
On Sunday, U.S. Secretary of State John Kerry led a bid to drag Syria's opposition forces into peace talks with Assad's regime.
The Paris meeting represented a critical juncture for international efforts to end a bloody conflict that has claimed more than 130,000 lives.
Kerry and ministers from 10 other countries in the "Friends of Syria" grouping have sought to persuade SNC to attend the Geneva peace talks aiming to form a Syrian transitional government.
The Friends of Syria, which is made of an alliance of mainly Western and Gulf Arab countries who support the Syrian opposition, said after the Paris meeting that the only way for political solution in Syria is for peace talks to take place.
"There is no other political solution," Reuters quoted French Foreign Minister Laurent Fabius as saying on behalf of the group.
Fabius added: "There will be no political solution for Syria unless Geneva 2 meets.
Meanwhile, in a final statement, the 11 core Friends of Syria nations urged the SNC to attend the upcoming peace talks.
"We urge the National Coalition to respond positively to the invitation to set up the Syrian opposition delegation sent by the U.N. Secretary General," the Friends said in a joint communique.
"We invite them to form, as soon as possible, a delegation of opposition forces to participate in the political process."
As well as the United States and hosts France, the countries which took part in Sunday's meeting were Britain, Egypt, Germany, Italy, Jordan, Qatar, Turkey, Saudi Arabia and the United Arab Emirates.
Al Arabiya
Photo: France's Foreign Minister Laurent Fabius (R) welcomes President of the National Coalition for Syrian Revolutionary and Opposition Forces (SNC), Ahmad al-Assi al-Jarba, upon his arrival at the Quai d'Orsay, the French Foreign ministry in Paris on January 12, 2014, to attend the conference of "Friends of Syria". AFP PHOTO / JOEL SAGET