Turkish police seize buses carrying arms near Syria border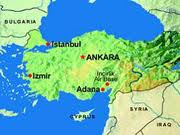 Turkish police seized two buses packed with weapons and ammunition on Friday in the southern province of Adana near the Syrian border, local media reported.
The buses were headed to the Turkish border province of Hatay, the Dogan news agency said, adding that the arms were concealed in the baggage hold of the vehicles.
Local prosecutors and police in Adana said they had no information about the report.
Turkey has long championed more robust backing for Syria's fractious armed opposition but has found itself facing accusations of facilitating the rise of radical groups by allowing weapons and foreign fighters to cross the border.
Ankara denies arming the rebels.
There have been a number of weapons seizures on the border in recent months. Authorities seized a vehicle loaded with 1,200 rocket warheads in November and last week local media said another truck was stopped on suspicion of carrying arms.
Foreign Minister Ahmet Davutoglu later said that truck was carrying aid to Turkmens, an ethnic turkic group, in Syria.
Reuters